Video Eastern Europe / Amsterdam:
---
How to get there:
From Brussels: Train (~40€) 2h, Bus or convoy (~20€), 3-4h
From Paris: Train (~80€ round trip) 2h30, bus (~30€ and 60€ round trip) 6h
Budget RoadTrip: Plan about 1000 € for 2 weeks or about 80 € per day (accommodation, activity, transport and food).
Budget Amsterdam in 3 days –> Transport : 30€ + 12€/day of bike, Accommodation: >30€ minimum (see below), Other: 50€/day
---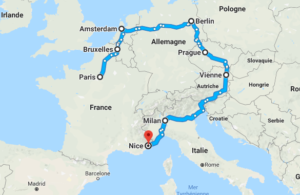 WHAT TO DO AND WHAT TO SEE in Amsterdam?
CYCLING!
Before discovering Amsterdam, the basis is to rent a bike to travel around the city like a local. The rental is not given. There are usually rentals between 10-20 € per day. The city center is pedestrian, if you are staying in the center, it is not imperative to take a bike.
You have to be careful to tie your bike well when you put it down to continue on foot because there are many bike thefts in Amsterdam.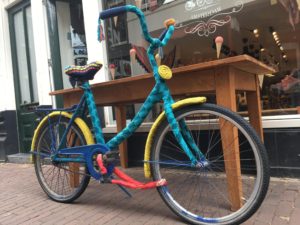 Museums:
There are many museums in Amsterdam. You will inevitably find your happiness. During my visit to Amsterdam, street artist Banksy had an exhibition at the Moco Museum. Before your stay, you can watch the exhibitions of the moment to target your visits.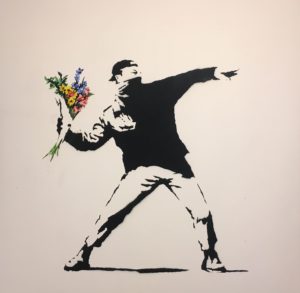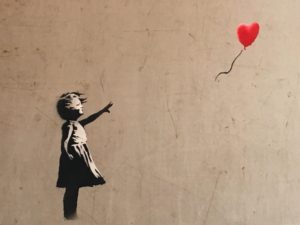 List of museums in Amsterdam:
Moco Museum
Rijksmuseum
Anne Franck House
Musée Van Gogh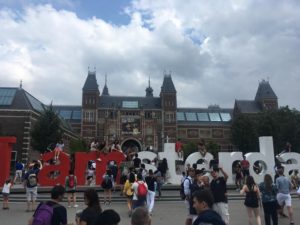 Rijksmuseum
BLOEMENMARKT, Le MARCHé aux Tulipes :
The tulip market is one of the oldest canals in Amsterdam. It is very pleasant to walk there. The different shops offer flowers to buy, magnets and other souvenirs and tulip bulbs to grow (about 5€ for 10).
Not to be missed: the tastings of goudas in the shops of the tulip market. There are at least 5 or 6 shops that offer to buy goudas honestly it can make you a nice aperitif if you test all the different types of goudas offered (truffle, pesto, pepper, chili …). It is also a good gift to bring back even if a little expensive.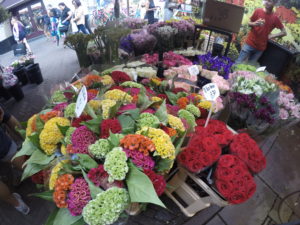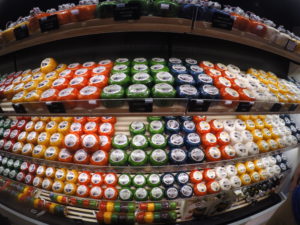 You can get there from Monday to Saturday from 9am to 7pm.
Address: Bloemenmarkt
A COFFEE SHOP:
You will find a lot of Coffee Shop. Of course, there is good and bad. Here is a small selection:
Bull Dog The First, Oudezijds Voorburgwal 90, 1012 GG Amsterdam, The Netherlands
La Tertulia, Prinsengracht 312, 1016 HX Amsterdam, The Netherlands
Katsu, Eerste van der Helststraat 70, 1072 NZ Amsterdam, Netherlands
The RED LIGHT DISTRICT OR RED LIGHT
Be careful, it's very special! The red light district or red light is a neighborhood to do day and night to see the change of scenery at nightfall.
Do not take pictures or videos of the windows because you could have big problems. This is not done and it can lead to unwanted altercations
WALKING AROUND TO SEE THE CANALS
Canals crisscross the streets of Amsterdam. There is no specific place to enjoy it. Just walk the cobbled streets of the city center on foot or by bike.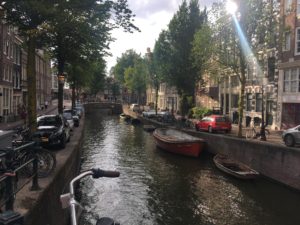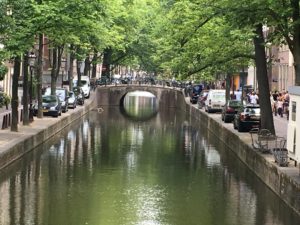 The good tip: eat an ice cream at Van Der Linde, ice cream with cream of milk for 1.5€ and they are incredibly good.
LANDING IN A PARK
Amsterdam's parks are very pleasant and popular with locals.
Vondelpark (the most popular)
Oosterpark
Westerpark
Sarphatipark
Club and Bar: GO OUT in Amsterdam
Amsterdam is a very good city to go out. The most famous area for enjoying clubs and a festive atmosphere is the Leidseplein.
The test boxes I recommend are as follows:
For more details, you can also look here
HOUSING:
All the center is nice and with bicycles you can easily get out of the way a little to the south, east and west of the city. Plan about 30€ minimum per night per person.
Amsterdam is also known for being a very expensive city.
What to do around Amsterdam
Clearly if you are in Amsterdam, you have to love cycling.
It is possible to discover nice places at 1h
Zaanse Schans and its mills
You will discover magnificent mills and a very small village very typical although tourist now.
The atmosphere is very nice I highly recommend.
To get there by bus:
It costs between 3 and 5€ on departure for a trip from central station with bus 391 for a journey time of about 40 minutes
To get to Zaanse Schans by bike – about 1h30 – 19 km:
Take your bike from Amsterdam
Go to Amsterdam, Centraal Station passing under a small tunnel on the left at the station and take the free ferry to cross towards Buiksloterweg just opposite or NDSM which will advance you. The best is to take one on the way out and the other on the way back.
Follow bike paths and signs but keep your phone not far away during changes to be sure to go in the right direction.
Once there, you can put on your bike. Be careful to have a good anti-theft and in summer the places are certainly rare.
Zandvoort and its large sandy beach – 30 km – 2h
This city with an unpronounceable name is a seaside resort popular with the Dutch especially for sliding sports (surfing, kite surfing …)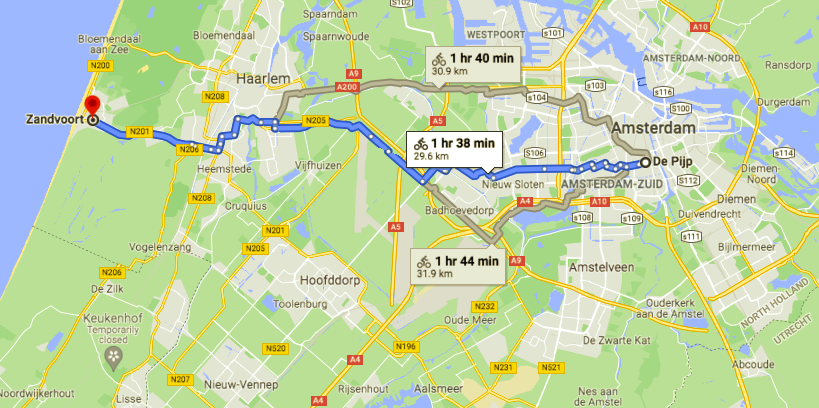 You have to hang on to go by bike count 2 hours depending on the wind, if you take breaks etc.
The road to get there is relatively nice.
It's not inevitable but it's nice if you run out of ideas.
---
In order to follow the whole Road Trip find the article Road Trip Eastern Europe – Interrail.
Otherwise follow the next step:
Amsterdam (stage 2) ✓
Berlin (stage 3) <– next stage
Prague (stage 4)
Vienna (stage 5)
Milan (stage 6)
Nice (stage 7)
Advice:
Try to travel light (a max hiking bag)
Regarding housing, anticipate as much as possible so as not to have too high prices. To reduce the housing budget you can also try Couchsurfing but it is difficult to have positive feedback to be welcomed.
To search for hostels, we used Hostelworld.