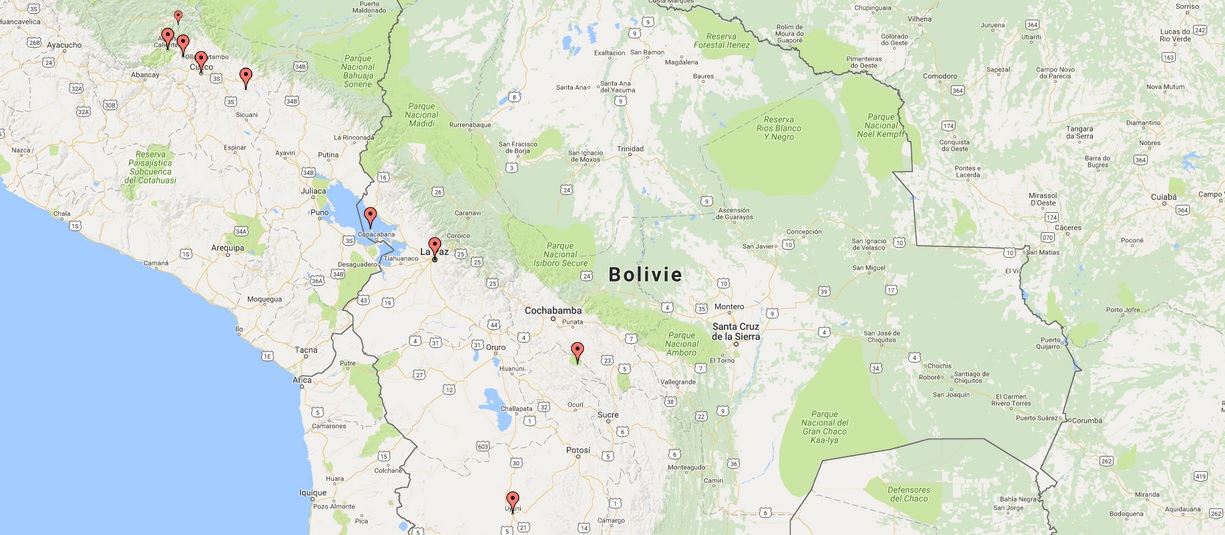 I advise you to use this tool to organize yourself in your travels. www.zeemaps.com/pub?group=1979696&legend=1&locate=1&x=-69.740192&y=-15.908863&z=12
---
  How to get there: From Brazil ==> Rio – La Paz: 360€ round trip (horrible flight with lots of stopovers including a night at Santiago de Chile airport) ==>Sao Paulo – Santa cruz 150€ round trip (much cheaper! Just find a storage in Sao Paulo to possibly leave your suitcases) What to do in Peru: Cuzco, the Sacred Valley, Machu Picchu, Ausangate Trek, Rainbow Mountains Trek, Nazca, Lima, Amazonia, Lake Titicaca (Puno) What to do in Bolivia: Lake Titicaca (Copacabana), Isla del Sol, La Paz, Madidi Park (Amazonia), Trindade (Amazon), Sucre, Potosie, Cochabamba, Salar d'Uyuni, Parque de Torotoro, Parque de Carrasco
---
https://www.youtube.com/watch?v=bEE7FLoP76o Exchange Rate: Bolivianos (BoB or Bs): about 1€ = 7.7 Bob / find the evolution of the rate here Soles (Sol): : about 1€ = 3.75 Sol / find the evolution of the rate here We went 23 days to Peru and Bolivia. Of course this is not enough to see from top to bottom these 2 countries but it allows to see most of the unmissable of these 2 countries. In the articles of the different stages of this Road Trip you will find all the useful information and tips not to be fooled in terms of prices and excursions. As much to tell you right away that this Road Trip is incredible and that we see extraordinary landscapes! So we followed the following steps:
  Transport: Transport is by bus. It's often long but the buses are very comfortable. The "cama" buses have seats that lengthen more than the "semi-cama" but often there is not too much difference between the 2. La Paz – Cuzco : Taxi from the airport to the bus station (70 Bs about 9-10€) – Departure 8am – 11am arrival at customs (the bus is waiting for you to leave!) – arrival in Cuzco at 9 pm! (360 Bob about 45€) Cuzco – Rainbow Mountains – Ausangate: We went through an agency located in Procuradores Street! There are no other ways the departures of the treks are withdrawn in the mountains. The trip over 2 days and one night cost us 250 soles (about 67€). All trips are priced in charges by the agency. Cuzco – Aguas Calientes: You have to go through an agency. All agencies offer this service. Transport from Cuzco to Hidroelectica back and forth costs between 60 and 70 soles (about 20€). Departure between 7am and 8.30am – Arrival 3pm approximately. Then you have to walk along the rails! There is no need to worry everyone does it and it is not dangerous. The walk lasts between 2h and 2h30. The best is to leave your bag in Cuzco and take only what is necessary! For the return you have to be between 13:30 and 14:30 in Hidroelectrica for the "bus" of the return (included in the 70 soles – 20€) Aguas Calientes – Machu Picchu: 2 possibilities: Either the bus (more than 30min of queue – 20/30 minutes to go – 24$ back and forth) to Aguas Calientes but there are many people to go as to the return! Either on foot (1h15-1h30), the ascent is still complicated. It is quickly heavy despite a departure at 5am. The ascent consists of steps, many steps. But we are even happier to discover this magical place after having "suffered" a little. see "Machu Picchu and Montana Picchu (Step 5)" for the detailed plan. For Montana Picchu allow 1h30 to go up and a little less for the return. Take the start at 7am! it will be much less hot to climb. The ascent is rather difficult but if you take your time there are no worries. However, do not have to be dizzy because there are certain passages that can impress. But there is basically no real danger. If you have fog at the top, wait for it to clear the view of Machu Picchu is AMAZING! Cuzco – Lake Titicaca (Copacabana):Night bus departure 22:30 arrival at 11am in Copacabana (50 soles in cama – 13 €) Copacabana – Isla del Sol: Leaving the bus people will accost you to offer you to go to the Island of the Sun (Isla del Sol). This is perhaps the simplest you will be able to possibly negotiate for accommodation on the island. The crossing takes between 1h30 and 2h and costs 25 Bob (3€) one way. The price of a night is 25-40 Bob (4-5€) per night and per person approximately depending on what you choose (one can find more expensive and more modern but overall the accommodations at 25 Bob are very correct. Copacabana – La Paz: Bus at 25 Bob (3€) in the main square going up the main street you can easily find agencies selling bus tickets Between 6 to 7 hours by bus to reach La Paz. La Paz – Uyuni: Night bus ==> Departure 7:30 pm – Arrival 6 am. Price: 100 Bob (13€) Arrival in Uyuni at 6am the agencies are already there to solicit customers for the salar of Uyuni. We chose Thiago tour present at the exit of the bus. For an excursion of 3 days and 2 nights all inclusive with duvets we paid 730 Bob (95€). There are however extras: the entrance to the cactus island in the salar 30 Bob (4€) + the entrance to the park (mandatory) 150 Bob (19€) + hot shower first night 10 Bob (1.5€). The tour is exceptional and the price is ridiculous for everything on offer. However it is also possible to negotiate prices by going to several agencies. It is possible to lower the price to 650 Bob (85€). But don't necessarily bet on it. Uyuni – Cochabamba – Torotoro: Returning at 5pm of the 3 days in the Salar de Uyuni, we took a night bus at 100 Bob (14€) with a departure at 8.30pm and an arrival in Cochabamba at 6.30am. We then ask a taxi to take us from the "collectivos" (small collective van) to Torotoro. The principle is simple, they leave as soon as they are full. Price: 35 Bob (5€) – Duration: 4h30 about Cochabamba – Parque de Carrasco: To go to The Parque de Carrasco you have to ask a taxi to take you there. There is plenty of bus departure to this park. You have to ask for Parque de Carrasco which is in the city: Villa Tunari. Price: 20 Bob (3€) – Duration 4h30 Other option in the same place the collectivos. Price: 35 Bob (5€) – Duration 3h Cochabamba – La Paz: Bus from the bus station about 8h drive and 80-100 Bob (12€) Tips:
Regarding bus tickets take them directly in the bus stations.
Always negotiate prices.
ALWAYS take warm clothes for bus rides! They always put the air conditioning to the fullest!
Keep room in your bags for sweaters and other typical products!
WIFI of very poor quality in Peru and Bolivia !! Access to Wifi is often paid (1-2 € for 15 minutes).
No need for a visa for the French in these 2 countries!