Stage 8 – Casamance: The paradisiacal beach of Cap Skirring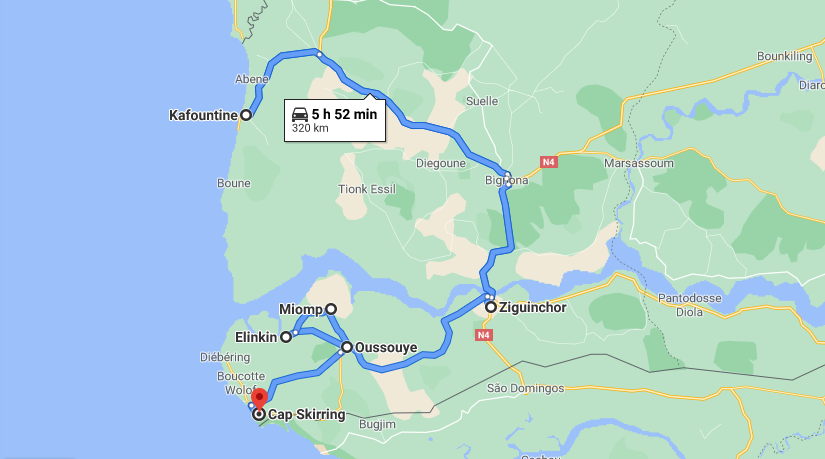 Day 13 to 16 – Chill to Cap Skirring
---
How to get to Cap Skirring 
– From Oussouye : 1500 FCFA – 2€ by 7-seater taxi with Bagou – 30 min
– From Ziguinchor : 2200 FCFA – 3€ by 7-seater taxi with Bagou – 1h20
After these last very sporty days, we decide to "rest" in Cap Skirring to end our stay in style. 
Dream destination to do nothing, white sand beach as far as the eye can see, coconut trees, and sounds of breaking waves. In short, another postcard.
Small beach restaurants with sunbeds and umbrellas that line up along the beach. 
In COVID times, the atmosphere is still a little gloomy. The CLUB MED which is a village in itself being closed, the activity of the city is very slow, and rather desert. There is even an airport in Cap Skirring that normally makes connections Paris > Cap Skirring in high season (Christmas period + February holidays) reserved for Club Med customers. 
The city center is still a bit lively with bars, nightclubs and restaurants.
The restaurant Le Régal is worth a visit with original proposals on the menu! Affordable price (dishes between 5,000 FCFA and 8000 FCFA)
But we were a bit disappointed with the city of Cape Town… We expect a pleasant waterfront to walk around (more like Saly) given its very touristic reputation … the tour is very fast, the shops not very interesting! 
For housing:
At Cap Skirring, you have something for every budget and every formula. Hotels with swimming pool, more family cottage offering breakfast with or without swimming pool, or simpler camp by the beach. 
In covid times, it is best to call to check that it is open. 1/3 of the places were closed when we passed in mid-October.
Always in line with the rest of our stay, we chose to spend our last three days as close as possible to the beach in a camp.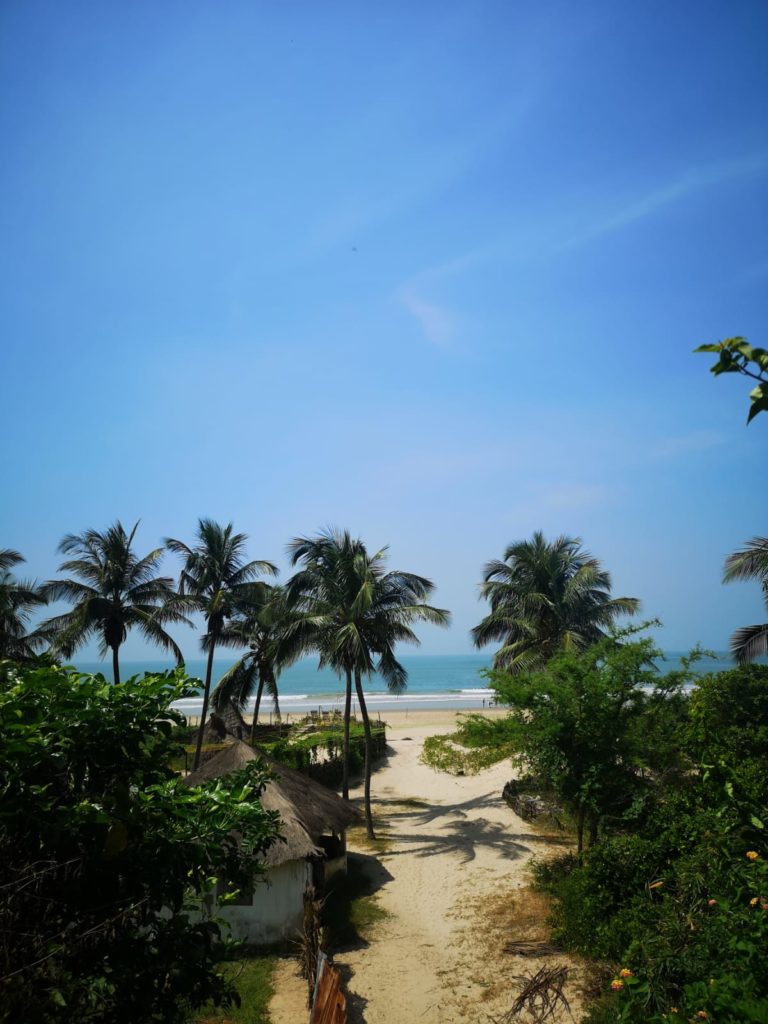 We stayed 3 nights at the Auberge de la paix: ventilated double room with bathroom at 6000 FCFA per night – 10 euros. Large stairs from the camp leading directly to the beach and very appreciable common area where you can have breakfast with stunning views of the beautiful beach and the ocean waves. Peace & love atmosphere, small garden with swings. The kitchens were closed as we were practically the only guests. 
We have had a lot of power cuts resulting in water cuts (pump running on electricity). But the whole city was concerned… 
To stretch your legs: Cap Skirring > Kabrousse > Boudediet
We launched without much anticipation by following our intuition in a beautiful walk. 
We left our camp and walked along the beach to Kabrousse. (about 45 min walk).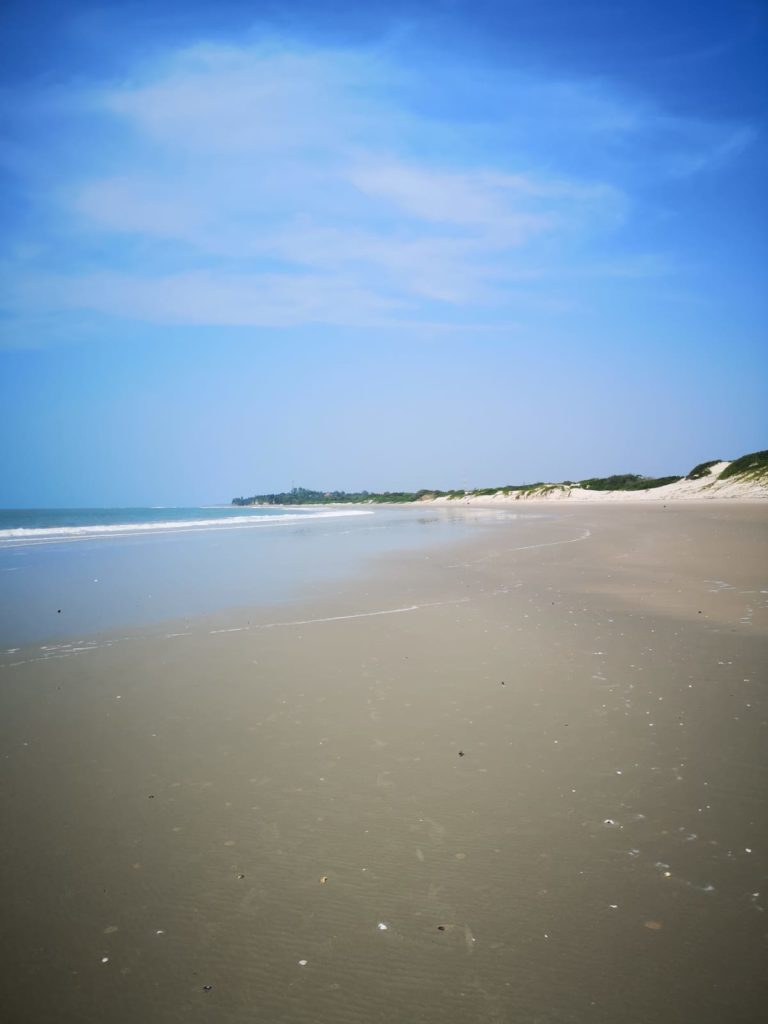 If you continue a little further you arrive at the geographical border of Guinea Bissau, but nothing really materializes it.We then went back to the village and continued to Boudediet through rice fields. (about 1h30 walk)
Walk with landscapes similar to those we saw to go to Saint George's Point. 
Boudediet is a charming little fishing village with a small port that through bolong can bring you to Guinea Bissau. We made a small stop, played with the crabs and negotiated for a return to Jakarta in Kabrousse from where we took a taxi for a return to Cap Skirring (all 2000 FCFA – 3.50 euros for two people).
We then walked from the city center to the beach passing in front of the closed CLUB MED, as usual, they have one of the best spots on the beach…Climbed a few rocks, picked up beautiful shells and enjoyed juicy coconuts watching a beautiful sunset. 
The next day, we returned to Kabrousse to have lunch in a hotel with swimming pool and spend the rest of the afternoon there. (Meal 15,000 FCFA approximately – 20 euros for two with pool access).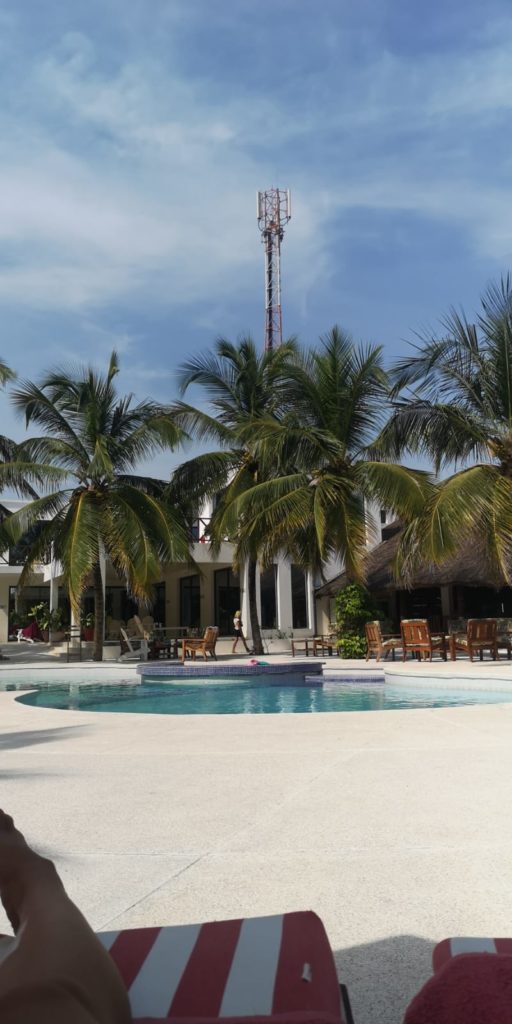 End of stay: Return to Dakar
We then returned by taxi 7 places to Ziguinchor (2200 FCFA – 3 € by taxi 7 places with Bagou). A bit of waiting at Cap Skirring bus station, as we arrived on Friday noon around prayer time, but otherwise a lot of traffic and not so much waiting. 
The taxi then dropped us in the city center from there we took a taxi to the airport (about 1000 FCFA). Then board by plane to Dakar (1 hour flight – 30,000 FCFA – 50 €). 
View of the setting sun over the mangroves from our porthole to end the stay on a poetic note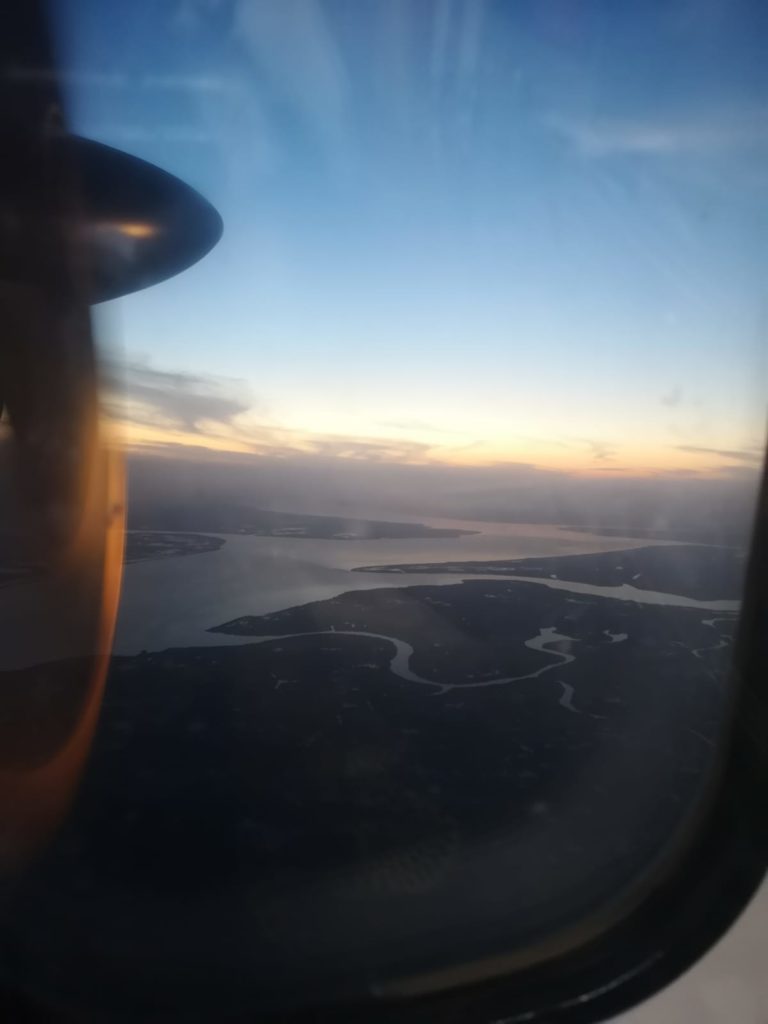 END of our stay see you soon for new adventures
️✅ Step 8 – Casamance: Cap Skirring