---
How to go to Casamance and the Bassari Country?
Stage 1 – Pays Bassari
Stage 2 – Casamance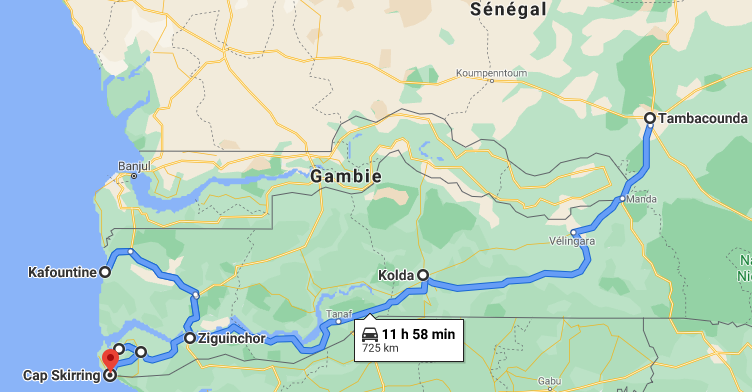 From Dakar 3 options:
By car : If you have your car or if you rent (between 45-60 000 FCFA – 70-100 € / day of rental + 775 FCFA / L) –> Be careful the roads are sometimes very damaged
By Plane: Only for Casamance (60 000 FCFA – 100€ A / R). After using the 7-seater taxis
By Boat: Maritime connection Dakar / Ziguinchor with stop island of Karabane. Night trip for the outward journey, cabin rental for 2 to 8 people or single seat. Be well informed about the schedules and day of passage of the boat (at the pier of Dakar, because site of the shipping company: COSAMA, not often up to date). Buy tickets in advance as the boat is often full. The return is during the day, is not recommended for seasickness sensitives.
By public transport: Dem Dickk + 7-seater taxis for flea jumps –> Dakar / Tambacounda: 9,000FCFA – 14€ (more details below)
What to do in Senegal?
Casamance (this RoadTrip)
Bassari Country with the Niokolo-Koba National Park (this RoadTrip)
The small coast with Saly, Somone, Toubab Dialo, Popenguine

(Article to come)

Dakar and its surroundings

(Article to come)
---
We left for a 16-day Road Trip in the South of Senegal from Dakar. This is the time needed to enjoy the South from East to West. For information, we had taken the anti-malarial treatment for this area (Malarone).
The landscapes are beautiful and the area is culturally rich. The premises are very nice and welcoming. No security danger, you just have to be vigilant and not have any sign of external wealth.
Finally, we followed the following route:
More details below…
What budget?
This feedback is for small to medium budget with minimum comfort. About 250,000 FCFA (340 euros) per person (excluding return transport) for 16 days. 
Exchange Rate ?
The exchange rate is constant!
To have benchmarks: 1000 FCFA = 1,5€ / 700 FCFA = 1€ (approximately)
Where to sleep? 
Camps: Several individual huts around a common living area for meals. The price of the night varies between 6,000 FCFA to 10,000 FCFA – 10 to 15 €, ventilated double room, mosquito net, with sanitary and shower, without breakfast, with water (sometimes in a bucket) and electricity (sometimes cut at night depending on the village).
However, warn in the morning for the evening of your arrival, especially if you want to eat there.
Namely: there is not really a mid-range. If you want more comfort (ex swimming pool), you quickly go to 25,000 – 30,000 FCFA – 40 € / 50 € per night.
Where to eat? 
The best value for money and the easiest is to eat in the camps. 1500 FCFA to 3500 FCFA – 2 to 5 € per meal (Yassa chicken, thiéboudienne …) . Breakfast 1500 FCFA (often comes down to tea / coffee / bread and butter, egg on request). If there is no kitchen, the managers can order for you.
If you have time to kill in bus stations do not hesitate to test the succulent sandwiches prepared on the go between 500 FCFA to 1500 FCFA (omelets, meats, red beans, tuna …). You can also come across good surprises such as small canteens with thiéboudienne for 500 FCFA – 0.80 €.
Tips : Carrying a can of tuna, some fruit, laughing cows, knife and fork can help if you arrive in a remote village with little stock of food. It will often be possible to buy bread to supplement.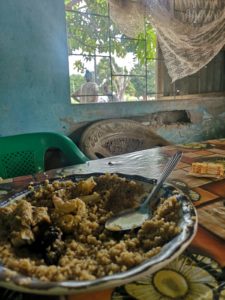 How to get around? 
Dakar – Tambacounda : Departure Dem Dickk at 8am, Tuesday, Friday, and Sunday, TERMINUS freedom 5 (9,000 FCFA – 14€), arrival at 4pm.
The Dem Dikk, THE good deal: fast (460 km in 8 hours, 2 timed breaks, toll motorway), economical, punctual and comfortable, the air conditioning is even a little too strong. No extra cost for luggage.
Tip : Arrive 1 hour early to be sure to have a seat, buy the ticket at the ticket office of the terminus or possibility via Orange Money in advance of their application (when it works).
However, check on the site the days of departure! The transport company is in the process of transformation so schedules may vary. Site under construction
The 7-seater Taxi, (Common Taxi, Bush Taxi according to appellation) will be your best friend:
You will travel LOCAL provided you put your comfort aside but the combo place in the trunk, 40 °, road with potholes is full of sensations, encounters .. and surprises (special mention for night trips)!
Thus, you will have to go to the bus stations also called GRAND GARAGE to find your taxi.
The principle is simple: the taxi leaves once the 7 seats are purchased. So possibility to buy tickets so that the taxi fills up faster (other travelers are sometimes willing to share the costs). The waiting time can be long… avoid off-peak hours for departure (mid-afternoon, Friday prayer time, after 5pm). The morning around 8am -9am is therefore to be preferred because more traffic + market days.
Tips: A bus station is a village in the city, take advantage of the waiting time to shop. Lunch and breakfast.. Once the taxi is gone, there will be no more breaks.
In times of covid, mandatory mask in public transport. Many controls.
The prices are fixed, check that you pay the same price as other travelers. But usually no negotiation. Only on bagous (luggage), do not pay more than 500 FCFA per piece. You are registered on the car register (telephone number, surname, first name) before departure, ID verification.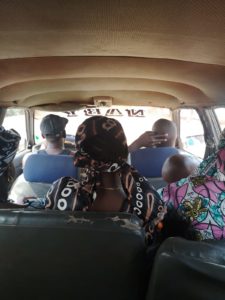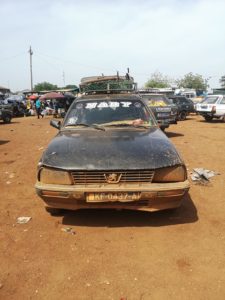 Tambacounda to Kédougou : 6 000 FCFA – 10€ (3h)
The road passes through the reserve of NIOKOLO KOBA, open your eyes, possibility to see animals on the side of the road (especially monkeys).
Kédougou in Dindéfélo : 2500 FCFA – 4€ (1h30)
-Taxi inta-city: 500 FCFA for each ride (Tambacounda, Kédougou, Kolda)
Other means of transport:
Three-wheelers, luggage taxi: for small distances, not very comfortable.
The Jakartas (motorcycle): Practical with road trip bag and to move in sandy areas, (beware of burns with exhaust pipes which are most often unprotected!)
Hitchhiking: can troubleshoot over small distances by jumping fleas to go from village to village, almost impossible for long journeys. Like everywhere, it depends on who you come across!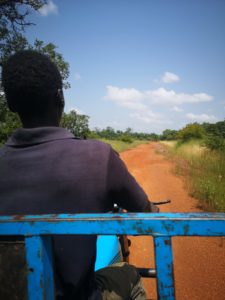 Security: RAS… as elsewhere in Senegal. Very safe, tourist area. The only danger is the condition of the roads which are sometimes very damaged after wintering.
Malaria: Malaria area especially wintering period, better to take a treatment.
For next time:
Niokolo Koba Nature Reserve: spend a night there. Closed for the moment due to Covid. Favor the dry season to better observe the animals near the river
Mako: Visit the gold mines and observe the hippos
Fongolimbi: hikes with elevation gains and waterfalls, mandatory guide
In his bag, we always have with either:
A flashlight / headlamp: current power cut
A Swiss Army knife
A fork
A K-way
A portable battery
Continuation of the adventure:
Things to complete? Any other feedback? different opinions? Let go of your com'!