Stage 6 – Casamance: Lamentins and Rando de la Pointe Saint-Georges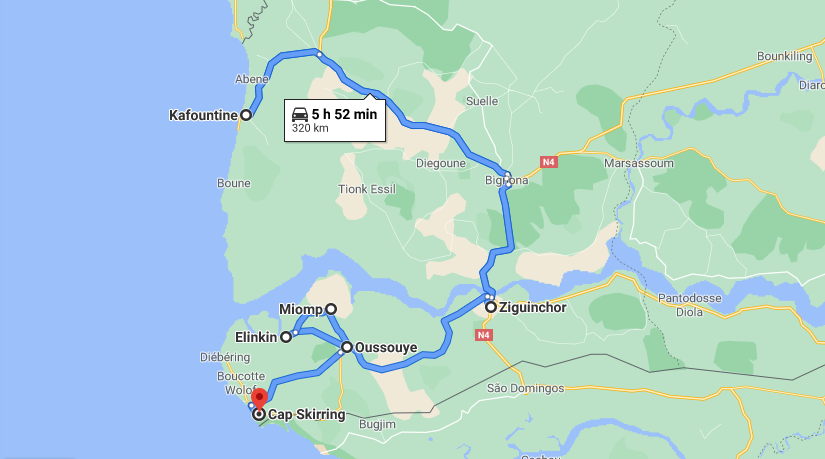 Day 10 – Rando Pointe Saint-Georges
Attention important point we did not have the chance to see lamentins … But we explain how to do it (to remember low tide + dry season)
How do I get to Pointe Saint Georges?
By the track: A recent track and in good condition connects Kagnout (on the road between Miomp and Elinkin), so you can go there by car or jakartas (negotiated 2500 FCFA a transfer per person).Take 2L of water per person + sunscreen + cap!
Through the rice fields: Very nice three hour walk through fields (or rather rice fields) detailed below from Miomp.
By canoe: From Ziguinchor. every 2 days (also on Saturday). Departure between 10am and 12pm while the canoe is full. Be careful to provide water and what to cover because the crossing is trying but many dolphins at the key. Go to the pier next to the hotel/bar le Perroquet. Price 2000 FCFA – 3€ with Bagou
To reach Kagnout or Miomp from Elinkin or Oussouye, ask your 7-seater taxi driver for a stop. The most complicated thing will be to leave these two villages, because the collective taxis that pass are often full, but with patience, we get there. Between 1000 FCFA and 2000 FCFA the race between each village.
For our part, we arrived from Elinkin and we chose the option to reach Pointe Saint George on foot from Miomp.
Arrived in Miomp, we come across the "Tourist Guide of the village", Jules, who is more or less good advice. First of all, he takes us to lunch in the village, in a small restaurant, Chez Madeleine, where we wait 2 hours 4 fried eggs and some fries. While waiting for our dishes, we have time to sympathize with Madeleine, We entrust her with our road trip backpacks to walk lighter. 
Miomp is a peaceful village with a huge cheese maker in the middle of the village square, where Jules and his friends drink quietly in the shade. You can also see a box on two floors.
Jules guides us through the fields to be on the right starting path. You have to pass a football field and take on the left the path that runs along a fence, then pass over a wooden barrier and follow the path on the left through fields. Once you are on this path, no more real risk of getting lost.
TIPS : Paid application to find hiking routes: Wikiloc. A free part allows you to have ideas for hikes and a route on a map. Combined with Maps Me, we're doing well!
Here are some landmarks, do not hesitate to ask for your way, the passage is quite busy.
Open your eyes, a great diversity of colorful birds will cross your path: cakes, yellow-billed hornbill (our favorite) which seems unbalanced by its beak when it flies, Black-billed hornbill, small yellows "gendarmes", small blues, reds!  
During this walk, you will completely wade in the rice fields, we spent our time removing and putting back our sneakers, maybe the hike can be done in sandals / flip-flops because no difference in altitude! 
You will also pass over two wooden bridges typical of the region!
We took 3 hours taking our time, but with few breaks. Take plenty of water with you.. no refueling during the hike after Miomp (where you can buy water), and walk in full cagnard !
Arrived at Pointe Saint Georges, take a break at the Campement des Lamantins. Very friendly and welcoming staff. If you are lucky you will see manatees at low tide. It is still said that the best time to see them is in the dry season. We were not so lucky. But we saw dolphins jumped away at sunset, after swimming in the warm water of the river.
Possibility to sleep at the manatee camp, or to have lunch there at noon. Don't forget to call before to let you know you're arriving! (10,000 FCFA per night, room with bathroom, 15 euros)
There is also a 360 viewpoint perched in a tree, the climb is a little expensive (15,000 FCFA) but apparently splendid view. 
We made the return by the track in Jakarta, before nightfall. We were dropped off in Miomp where we picked up our bags before finding with a little difficulty a taxi to Oussouye. Fortunately Jules was still there to help us in the negotiation, BIG UP to JULES <3. 
✅ Stage 6 – Casamance: Lamentins and Rando de la Pointe Saint-Georges