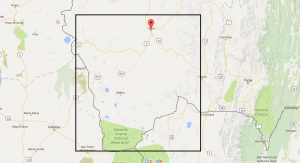 ---
How to get there: Bus from La Paz 10am – 100 Bob (13€) departures to Uyuni from all major cities. What to do in Uyuni: The Salar de Uyuni, The South Lopes, see pink flamingos, San Pedro de Atacama, Chile, Trek in the Andes…
---
https://www.youtube.com/watch?v=bEE7FLoP76o Exchange Rate: Bolivianos (BoB or Bs): about 1€ = 7.7 Bob / find the evolution of the rate here Soles (Sol): : about 1€ = 3.75 Sol / find the evolution of the rate here After spending a night in La Paz, we took a night bus at 7:30 pm to arrive the next day at 6 am in Uyuni (100 Bob – 13 €). As soon as you arrive in Uyuni, travel agencies will accost you to offer you tours. We booked a tour leaving the same day at 11am in the Thiago Tour agency 5 meters from the bus stop. Trips by agency are done in 4×4 for 6 people. The "Trip" in the Salar de Uyuni is as follows: 3 days and 2 nights all inclusive for 730 Bob (95€) per person sleeping bag included. It is also necessary to count the entrance of the park (150 Bob -20 €) + the access to the island of cacti optional and really not necessary (30 Bob – 4 €) + Shower the first evening (10 Bob – 1.5 €). The value for money is amazing knowing that the meals were plentiful and that we do a lot of driving. It is possible to trade on site up to 650 Bob but do not be in a hurry. Trip details:
– Departure 11am for a train cemetery.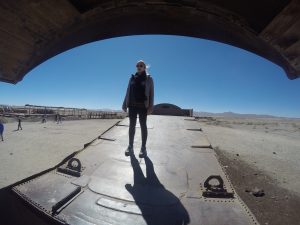 – Village at the gates of the Salar de Uyuni you can buy souvenirs or other tourist attractions. – Salar de Uyuni with the statue of the Dakar (meal)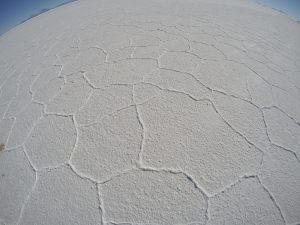 – The island of cacti (30 Bob optional). You can go around the "island". It's the perfect time to take funny photos.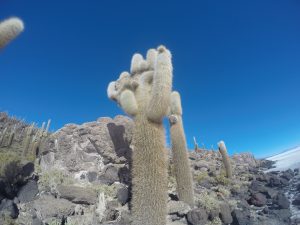 – Possibly ask to make the sunset in the Salar. – Night in an "inn" with salt walls!  
– Departure 7am. – Crossing colorful lagoons with pink flamingos.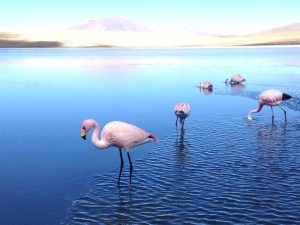 – Stone tree in the desert of San Pedro de Atacama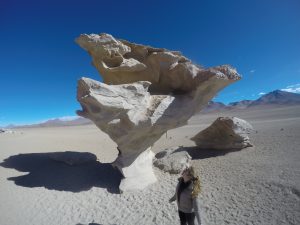 – Entrance to the park of the laguna colorada (red lagoon) 150 Bob – 20 € mandatory. – Overnight in a small cottage.  
– Wake up 5am to see the sunrise on geyser.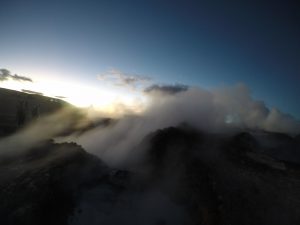 – Laguna verde with a volcano – Baths in the hot springs (6 Bob – 1€)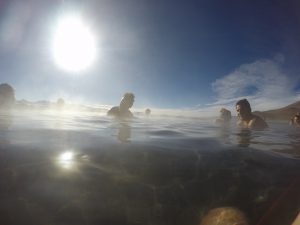 – Dali Desert – Meal in a lava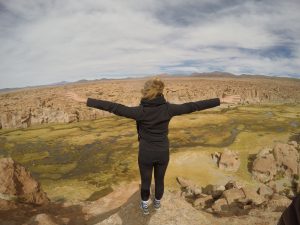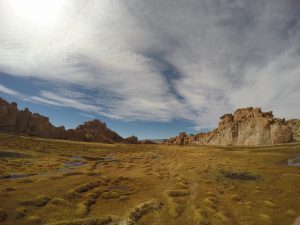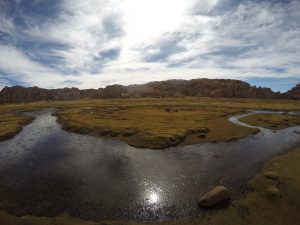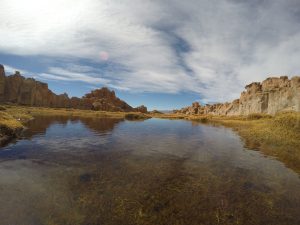 field – Return to Uyuni at 5pm We then took a night bus to get to Cochabamba 9h drive – 100 Bob (13€) and then from Cochabamba, the Torotoro park by minibus (collectivos). Departure when the collectivo is full – 4h30 drive – 35 Bob (4.5€).  
Advice:
Take warm outfits for the bus. It's terribly cold on buses in Latin America!
Essential sunglasses.
No internet during the 3 days.
Possibility to recharge phone and camera in the evening.
Useful sleeping bag because it is very cold at night.
See the general tips of the article: Trekking Road Trip Peru and Bolivia