Stage 3 – Casamance: Ziguinchor, the peaceful capital
LOW CASAMANCE IN 10 DAYS AND ALWAYS WITHOUT A CAR (it's also possible)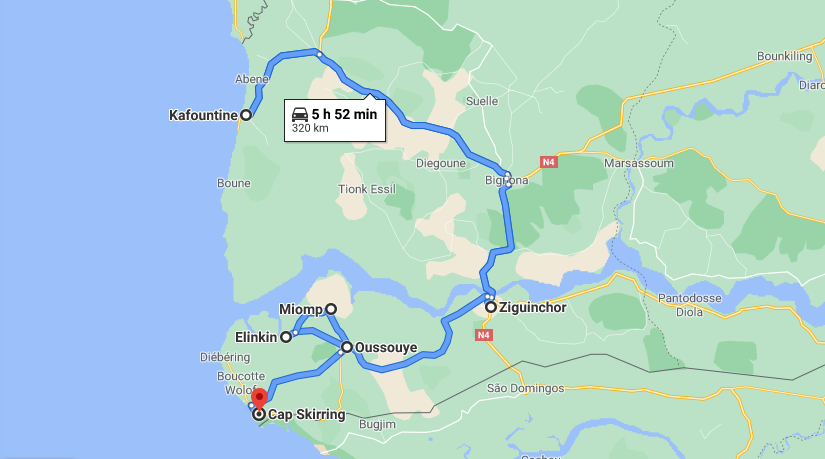 How to get to Ziguinchor?
From Dakar:
By Plane: Only for Casamance (60 000 FCFA – 100€ A / R). After using the 7-seater taxis
By Boat: Maritime connection Dakar / Ziguinchor with stop island of Karabane. Night trip for the outward journey, cabin rental for 2 to 8 people or single seat. Be well informed about the schedules and days of passage of the boat (at the pier of Dakar, because site of the shipping company: COSAMA, not often up to date). Buy tickets in advance as the boat is often full. The return is during the day, is not recommended for seasickness sensitives.
From Kédougou (previous article):
Day 5 – Transport Day: From Kédougou to Ziguinchor
The most technical step in terms of transport of this road trip when traveling without a car.
Two tips: Get up early, and be very patient…
We leave at 8am (already too late) from Kédougou, the taxi fills up easily because rush hour.
Kédougou to Tambacounda (6000 FCFA / 10€) – 3h drive
–> See Article on bus stations.
Arrived at 11:30 am in Tambacounda… it's off-peak time. And we learn that there is no longer a direct 7-seater Taxi to Ziguinchor, the last departure was at 10am. It will be necessary to stop in Kolda.
Not many people in the bus station of Tambacounda, after 2 hours of waiting, we buy additional places to be able to leave.
Kédougou in Kolda (5500 FCFA / 8€) – 3h drive
Arrived around 17:30 in Kolda. A little panic when arriving, night falls… very few people at the bus station. And we are the first to wait for the departure of a 7-seater taxi to Ziguinchor. We want to avoid spending the night in Kolda at all costs. Unsuccessful stop attempt.
Stroke of luck, travelers arrive .. there are only two places left to buy. Departure 20H.
Kolda in Ziguinchor (4500 FCFA / 7€) – 2h30 – 3h drive.
Arrived 23h in Ziguinchor …. ! Mission accomplished!!!
TOTAL per person Kédougou – Ziguinchor with 1 bag = bagou (without redemption of place): 17500 FCFA – 26 euros – 630 km
The little tips travel by taxi 7 places
Have a mask on either in Covid period
Oppressive feeling when arriving at some bus stations, do not panic and do not follow the first touter. Do not hesitate to ask again if it is the right vehicle.
Attention to the price of bagous (luggage), 500 FCFA per piece, they will try to make you pay more, because no ticket for the bagou … but by insisting we always manage to have the real price.
Give yourself a waiting time limit and start negotiating the purchase of place after 1h30 – 2h. Take then it is the poker game that begins … You never know when a new passenger will arrive…
Take the buses (because fast) as a last resort… they are even cheaper, but very very long (travel time X2) because they really stop at all the bleds….and very uncomfortable.
Other passengers often agree to participate in the seat buyback.
Negotiate the place in the taxi, favor the middle bench, avoid those at the bottom …
Buy water before you hit the road
Day 6 – Ziguinchor Discovery of the Casamance capital
Taxi within Ziguinchor – 500 FCFA = 0.80€
Casafrique Hostel : Spacious double room – 8000 FCFA (12 euros) with breakfast. Good location- 15 min from the Escale district – but lots of mosquitoes in the room. Hostel under renovation, nice garden, space with potential. Accommodating staff!
Later in the trip, we spent a night at the Parrot. Great favorite for this hotel that offers double rooms river view with air conditioning for 18 000 FCFA – 27 €, per night. Excellent value for money. The terrace is very nice, good food!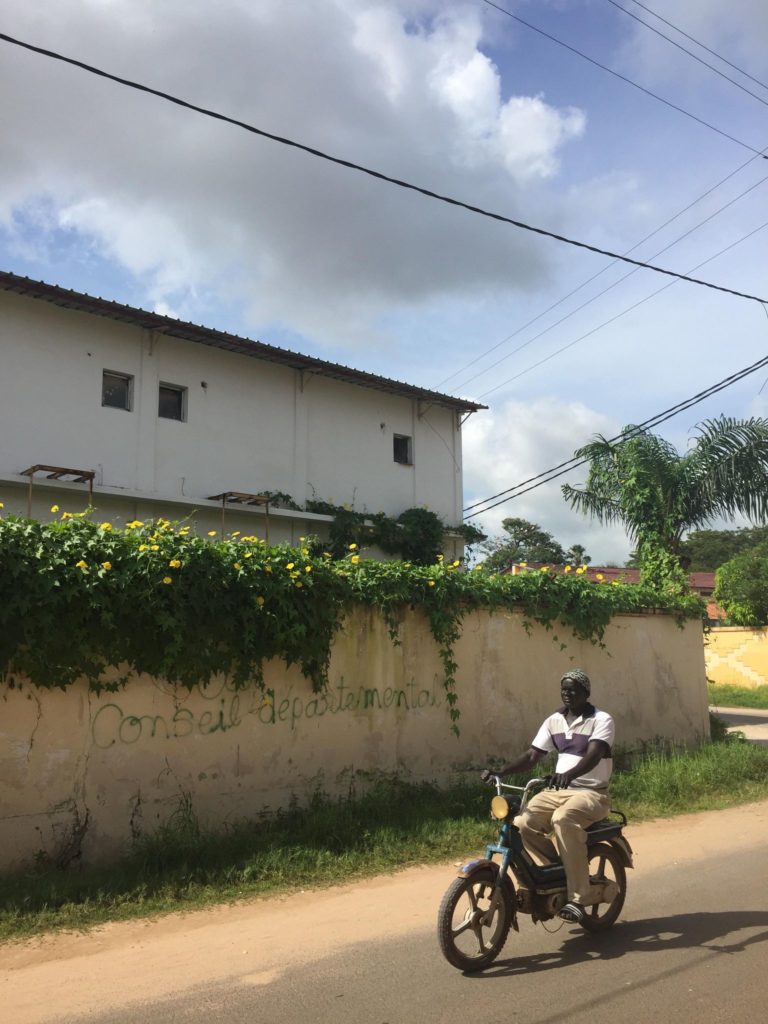 To see in Ziguinchor:
Attend a fishing arrival at the port
Have a drink at Parrot at sunset or at Les Pieds dans l'eau bar.
Visit the Alliance Française
Take a trip to the market, watch out for smells
Eat a good fish in a canteen in the city center. We tested: Cordon Bleu. Caring staff.
If you're lucky, see dolphins at night or dusk!
Exit to double-click …
Stroll through the Escale district
Observe the storks in the flamboyant (they are there in October)
Admire the colonial style houses along the river, choose the one you want to renovate!
City with nice atmosphere, peaceful, relaxed! Perfect stopover city after a long day in transport. One day is more than enough to discover the city!
2pm – Departure Kafoutine
Return to the Grand Garage, quick departure for Kafoutine. 
In Casamance in general, there is more traffic between cities and less waiting for the departure of 7-seater taxis. So very convenient!
Ziguinchor in Kafoutine (2500 FCFA – 4€) – 2h30
✅ Stage 3 – Casamance: Ziguinchor, the country capital