Dakar is a great city for restaurant lovers.
Like any great cosmopolitan capital, you will find everything for all tastes and budgets with a very wide range of restaurants and different influences.
Eating local in Dakar:
We recommend local canteens which are excellent and very inexpensive a Tiebou dienne in a local canteen/restaurant can range from 500 to 2000 FCFA max
Our addresses:
Canteen of the Ministry of Finance
Canteen in front of the Pasteur Institute
Canteen of the Town Hall (Plateau)
Canteen in front of the Institut Français
Canteen Gallery (Plateau)

Most often discreet do not hesitate to push doors to find your good addresses, or to be advised by the dakarois. Everyone has a good canteen close to their place of work, just find it.

On set you can contact Aby at +221 77 615 00 15 who makes meals for the Ministry of the Interior. If you warn her well in advance (morning for noon) and you bring your tupperware, she can prepare one of the best Tiebou dienne in Dakar for 1500 – 2000 FCFA. It can be found here
Have brunch in Dakar:
Grocery shopping in the Plateau : for those who are in need of French products. Formula Duo at 10,000 FCFA
Kotao : Avocado Toast, salmon … safe value, but a lot of people.. Almadies on the US Embassy side, new address in the Plateau opened at the end of 2021.
Melo : Mamelles, hyper frequented on Sundays get up early or go there during Ramadan. Very typical brunch menu
Dionevar : at the forefront of almadies, brunch tray unique formula, more quantity than quality, neat setting. 
Mawa's: in Hann Marist American pancakes in a garden with bucolic decoration. 
At Fatou at Almadies plages: the setting is nicer than what's on the plate
L'Océanium: small cornice in Plateau, never tested but appetizing on Instagram
Big brunch buffet in luxury hotels with pool access formula: Terru-bi / Pullman / Marina Bay (never done but positive feedback)
Eating by the sea in Dakar:
For seafood lovers: go to the tip of the almadies. Restaurants in rows. Preference for the one really all at the edge of the water "The Tide". 
You will have oysters, cockles (pectonic), lot skewers. Very affordable, good franquette
Eat a Pizza/Italian in Dakar:
Mama Pizza, by far the best tray address. The room is not interesting to eat there, it is better to be delivered, possible up to the Mamelles, but they arrive a little cold. Thick dough pizza, Neapolitan type.. 
Trattoria de Alex – formerly Colorado (Point E). To eat on the spot with the joking Italian boss or get delivered. Pizza with thick dough.  
Reine Margherita (Ngor): restaurant that does not look good from the outside but very good food. The pasta is excellent, pizza with fine pasta.  
and other addresses that we will let you discover for yourself: Francesca … 
Sekubi (Plateau): One of the best value for money. formula at 10,000 FCFA for lunch for starter / main course / dessert. Different menu every week. Cuisine with a neat presentation, Italian, gourmet and original. The setting is amazing, right next to the Independence Square but super quiet with sea view and soothing garden. The service is fast, perfect for professional lunches. A la carte service in the evening, much higher price.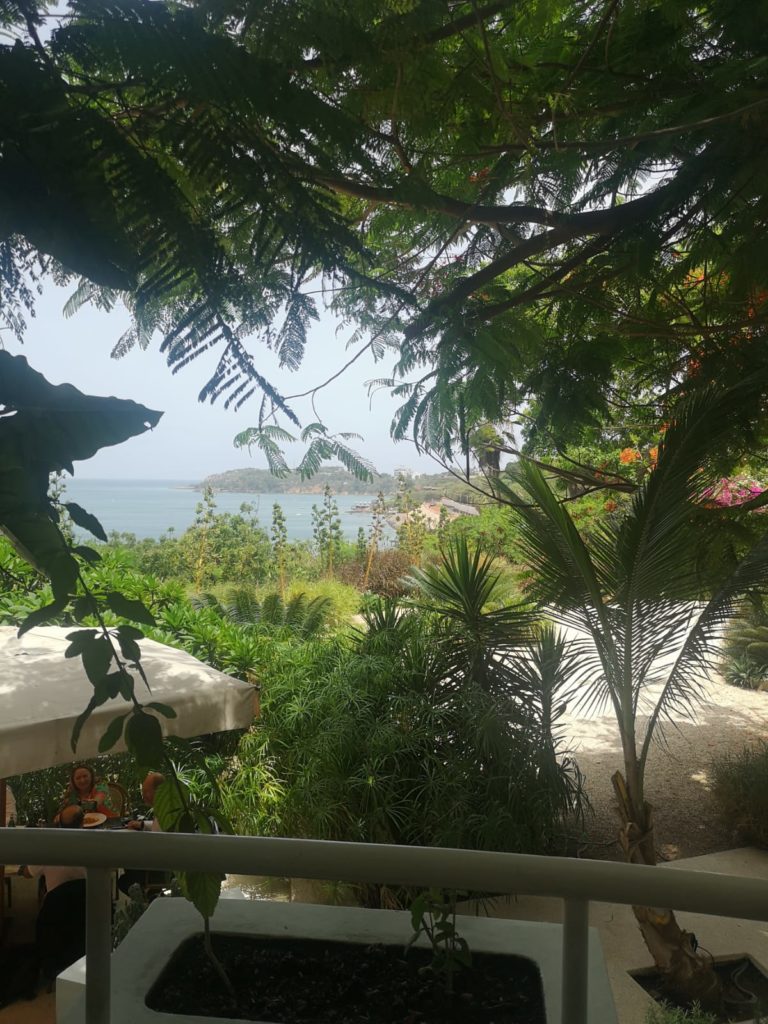 Eating Lebanese in Dakar:
You will find a lot of choices.
On our side, we advise you: Chez Farid (Plateau), very nice pleasant terrace that rivals the Oriental (just next to the French institute, Plateau too). 
Eating a burger in Dakar:
Brasil Burger at Point E and Olympia Cinema. Good value for money. 
Classic Burger in Tray: super expensive for not much. Disappointed. 
Chez Lulu: Belgian concept store and restaurant. VOTED BEST BURGER IN DAKAR BY JEAN MICHEL VOYAGE: The Afro burger with avocado and sweet potato to die for. Only à la carte on Wednesday and Saturday lunchtime. No service in the evening. Nice place for coworking. 
Other restaurant addresses:
If you miss French cuisine:
If you liked or have other tips to share feel free to comment on the article or join the facebook page or follow us on Instagram @jeanmichelvoyage