How to get around Dakar? This is one of the big questions when you arrive in Dakar and Senegal
Taxis
Bus
Buy your car?
Rent a car?
Buy a motorcycle or a Jakarta?
Shared taxis, 7-seater taxis or shared taxis
We give you the keys to make the right choice and have orders of magnitude on prices!
Attention these will be indications. Prices are rising greatly in Dakar so this is most likely to change.
At the end of the article we give you all the good plans to have the best prices.
Taxis in Dakar:
By far the most used means of transport by foreigners.
There are a lot of taxis and the prices are very affordable. It can still be a hell of a budget if you take it every day. On average, count between 1500 and 2000 FCFA per trip (which corresponds to 2-3 €)
A very important information: you must always negotiate, even more if you are Toubab (white). We give you the keys to have the orders of magnitude of the prices.
We also give you an example of negotiation below so as not to be fooled.
Order of magnitude of taxi prices
Tray – Udder: 1500-2000 FCFA
Tray – Point E / Fann oc : 1000-1500 FCFA
Plateau – Ngor/Almadies/Virage (Yoff) : 2000-3000 FCFA
Mamelle – Almadies : 1000 FCFA
Point E – Udder: 1000-1500 FCFA
Point E – Ngor/Almadies : 1500-2500 FCFA
Airport – Plateau: 16 000 (Allo taxi) – 20 000 FCFA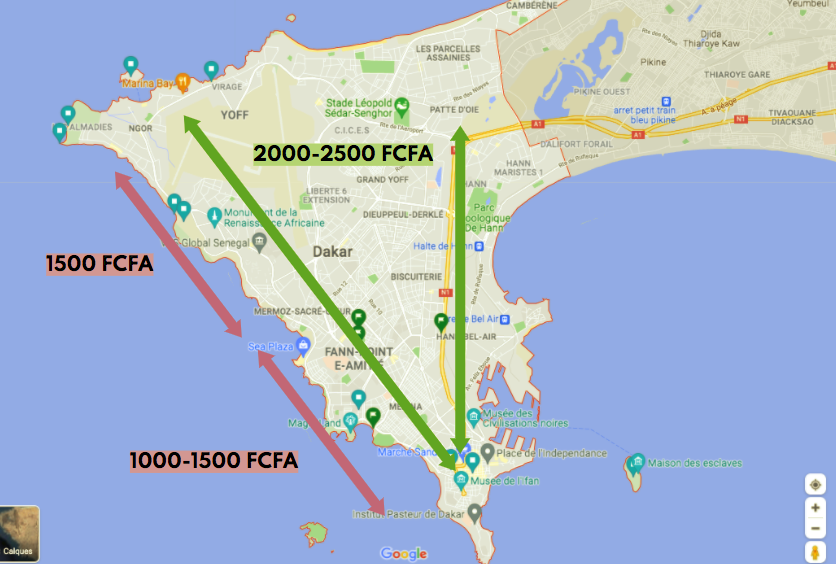 How to negotiate well are taxis in Dakar
When you negotiate, always be smiling and nice it will go better and if you get out words in Wolof it's even better with a classic:
– Salamalekoum (Hello)
– Nagadef (how's it going)
– Mangi dem "your destination"
– Advertise the price with a low range or ask how much it costs by saying Niatala
ex: Mangi dem "Atlantic Pharmacy Ladies"
or "1500 FCFA is good"
– then you will have a taxi price often too highFor
example 2500 FCFA
The you cut the pear in 2 saying the price in the middle and adding "Bahrna" (which means enough, no more, stop)
ex: No 2000 Barna
And it's good you will have your taxi
The bus in Dakar and Senegal:
The bus network is chaotic but very inexpensive.
If you have time, try the adventure of the "fast car" which are the typical minibuses of Senegal. It's very long and you'll be crammed on top of each other but if it's not a rush hour morning or evening, it's largely doable (especially on weekends).
The best thing is and will always be to ask the people at the bus stop which bus can take you to your destination.
Alternatively, you can use the Moovit app (attention times rather approximate) which tells you rather well which bus lines to take and where the stops are.

In general, a bus is worth on average 10 times cheaper than a taxi for example if you have a Plateau – Mamelles by taxi that is worth 2000 FCFA, the bus transport will be about 200 FCFA (or 0.30 €)
Dem Dikk buses (which means round trip in Wolof):
These are the "official" buses, they are more comfortable and above all very interesting to go outside dakar. To go to Saint-Louis (Discover our article on Saint-Louis) or other.
To go further, find on the Dem Dikk website the bus lines
You can also order online with the Yobuma application, you must have an Orange Money account to be able to pay for your seats. Attention the seats leave very quickly (in general one departure per line per day) and to order, you have to download their mobile application, an orange account and keep the confirmation sms with you because it is the proof to enter the bus.
To be sure the best is to call them to be sure because the tickets only open 2 weeks in advance it seems to me.
The number is +221 33 859 47 20
Buy your car in Dakar?

It is profitable if you surf (discover our article on surfing in Dakar) or if you want to roam not far from Dakar.
You should know that a car in Senegal can quickly be problems at the administrative level, papers and garage because cars are often old cars cobbled together with poor quality equipment.
But it is quite common for people for 1 year or more to take a car.
Personally, we have chosen not to make the investment for fear of having more costs, worries with repairs and maintenance of the vehicle. 
Rent a car in Dakar?
Car rental is a good solution if you want to get out of Dakar punctually.
You can have plans at 20,000 FCFA per day.
Be careful, cars are not the best. Clearly you can have adventures during your trip (breakdown, puncture …)
Another solution: have a car and a private driver.
We had it to do a Dakar – Siné Saloum round trip 100,000 FCFA for 6 people with a driver.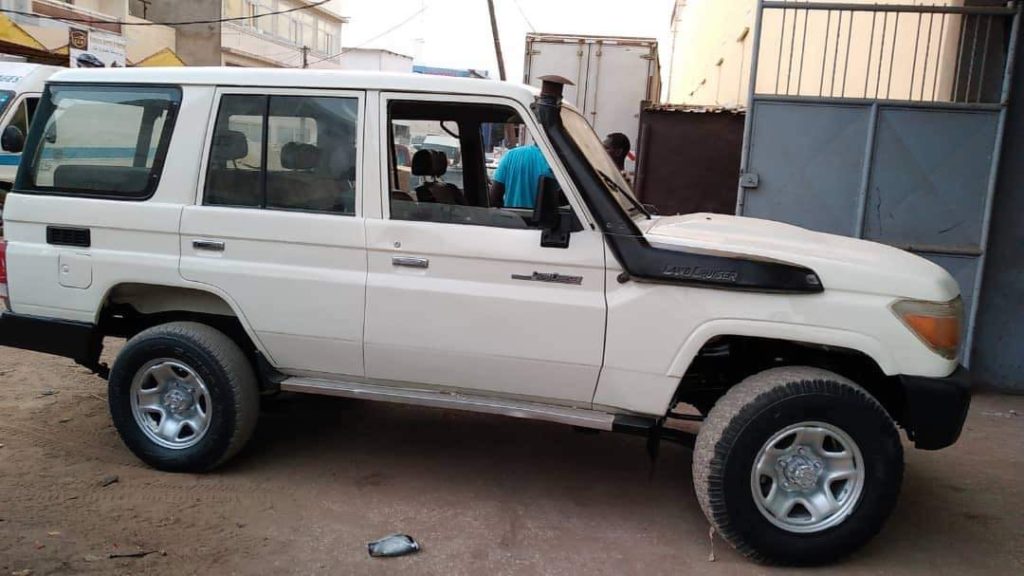 Buy a motorcycle or jakarta:
Buying a motorcycle, scooter or jakarta is the most used solution after taking taxis. Prices are relatively cheaper and it is easier to maintain your vehicle.
Count about 500 € for a scooter (300/350 000 FCFA)
Shared taxis, 7-seater taxis or shared taxis
The principle is simple: the taxi leaves once the 7 seats are purchased. So possibility to buy tickets so that the taxi fills up faster (other travelers are sometimes willing to share the costs). The waiting time can be long… avoid off-peak hours for departure (mid-afternoon, Friday prayer time, after 5pm). The morning around 8am -9am is therefore to be preferred because more traffic + market days.
Tips: A bus station is a village in the city, take advantage of the waiting time to shop. Lunch and breakfast.. Once the taxi is gone, there will be no more breaks.
Collective taxis are a very good solution to travel to Senegal from Dakar.
There are several departure stations:
Beautiful Maréchais in Pikine to go to Saint Louis
Crow's feet to go to the Siné Saloum, the small coast (Mbour, Sally)
Plateau (Independence Square) to go to Rufisque
To give an example, a Dakar – Mbour shared taxi is worth between 2500 and 3500 FCFA which is very little!
The prices are fixed and sometimes you will pay 500 FCFA for a "Bagou" (a luggage) but it can be negotiated by saying that it is good you know the pricesIn

times of covid, mandatory mask in public transport. Many controls.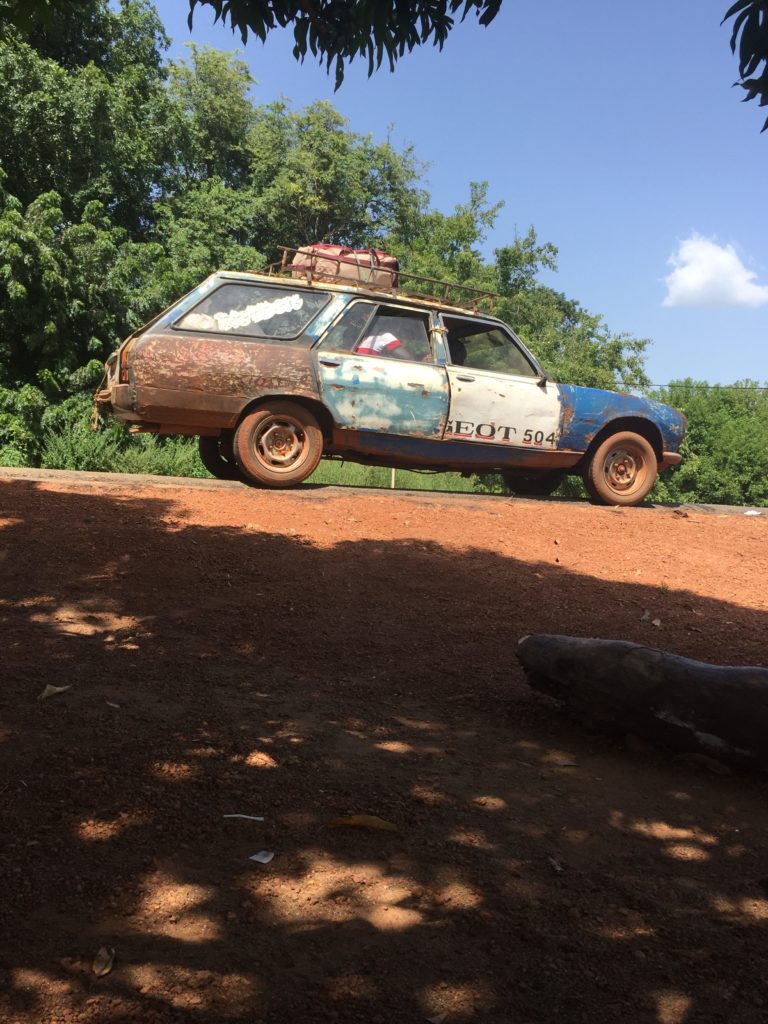 Good plans to have the right prices:
For the airport use Allo Taxi it is the cheapest in 2021 a trip was worth 16,000 FCFA
You must send a whatsapp with the day and times to the following whatsapp number: +221 78 389 30 42
To buy second-hand, go to the French in Dakar and put a message that you are looking for a vehicle. You will have proposals and you will be contacted
Feel free to comment if you have any good plans to share.
You can find our adventures on ourfacebook page or by following us on Instagram@jeanmichelvoyage