An extraordinary adventure in Guinea Bissau!
What a joy to have been able to discover Guinea Bissau with its captivating beaches and warm inhabitants.
In 10 days we had a nice overview of the country that we highly recommend.
You will find in this series of articles all our tips!
Here are the main stages of our journey:
Then we continued on the Casamance. –> Article on Casamance here
A photo preview of what awaits 😍 you
Some tips
LOOK at the neon plankton : in the evening when there is not too much moon you have a good chance of seeing the fluorescent plankton in the water after 10pm. Shake your feet in the water and discover this magnificent phenomenon.
Budget: for 2 weeks we spent about 500€ all inclusive per person. Depending on your activities or the accommodations you will take it can go up to 1000 €. there is something for every budget.
Time: to enjoy well it takes about 10 days. Especially because for the Bijagos Islands there are no departures every day and in Guinea-Bissau the journeys are very long.
Currency: For information, 10 000 FCFA = 15€ // 600 FCFA = 1€. In Guinea Bissau, CFA francs are used so you will be quiet if you come from Senegal! Otherwise you will have many banks in Bissau but on the Bijagos archipelago few ways to withdraw cash. (a person makes money transfers to an account in the UK, we have not tested but it is better to avoid I think).
Temperature: IT'S HOT but it's tenable remember to buy water and bring Lifestraw if possible to troubleshoot.
Wifi/Infrastructure: the country has poor infrastructure in general, wifi is not the best and not available everywhere. To have some (Bissau: Restaurant Kalliste, Bubaque: Mango Lodge). For the internet, we advise you to take a card in Bissau –> Between 500 FCFA and 1000 FCFA for first prices to receive at least calls.
In my suitcase I have … : Mosquito repellent, a Decathlon "meat bag", summer stuff, glasses cap, sunscreen, a headlamp, a Lifestraw
Before the trip – the necessary documents
It is imperative to apply for a Tourist Visa: with two photos + a reservation of accommodation (can be bogus, not verified)
Some information if you come from Senegal👇
→ From the Embassy of Guinea Bissau in Dakar:
– 3 days before departure 45000 FCFA
– 1 day before departure 55000 FCFA
→ From the Embassy of Guinea Bissau in Ziguinchor :
– Between 20,000 FCFA to 15,000 FCFA
No covid test requested in April at the land border. 

How do I get to Guinea Bissau? 
→ From Dakar Via Ziguinchor, then by the land border:
Dakar – Ziguinchor :
By boat: We left Dakar by sea.
Resident Card rate (or Consul's card – to be done on Ariane): 10,000 FCFA / Non-resident 15,000 FCFA. Book directly at the pier of Dakar with the shipping company COSAMA, well a week in advance the places leave quickly. Since the summer of 2020, the boat with cabins is out of service, place only at the headquarters. 
They ask to arrive early, 5pm for 7:30pm, but it's not very useful, when you don't have a vehicle. If you want more comfort, you can provide a down and a yoga mattress to sleep on the deck. They lend blankets, a small bar that sells beers, sandwiches, coffees, music until no time… 
However, despite the memories you will not spend the most beautiful and sweet night of your life, but the atmosphere on the bridge is good-natured, and waking up in the morning at the mouth of the river with the dolphins as a show is appreciable. Be careful, luggage goes in the hold, same road trip bag, non-negotiable.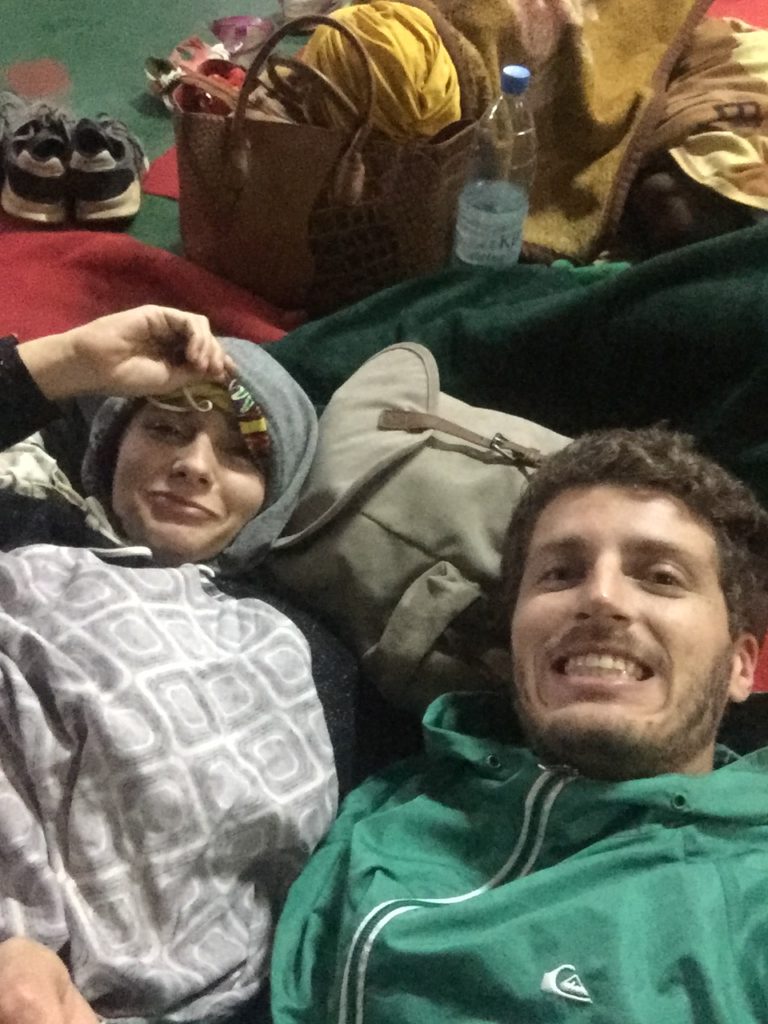 Arrival at the port of Ziguinchor around 11:30 – 12:00
By bus: 15,000 FCA for 15 hours drive (possibility of night – midnight departure to Pikine Beau Maracher) + 5,000 FCFA requested at the Gambiène border at the entrance and 1000 FCFA at the exit. Option that is not the most profitable in terms of time and money.  
By plane : Senegal airlines about 30,000 FCFA + Tax and transport about 20,000 FCFA to go to Dakar airport. 
Ziguinchor – Bissau:
Bus n°9 at the main roundabout between the port and the large garage: 250 FCFA. Get off at MPAC about 1h. Or take a 7-seater taxi from the large garage to Mpac.(don't hesitate to ask people on the street)
A MPAC take a Jakarta negotiated 1000FCFA per person to cross the border and go to Domingo. They are quite insistent, negotiate well. 
3 stops for 3 Customs posts, to check, visa, passports, bag
In São Domingos, take a 7-seater taxi to Bissau. The road is not good, count 3 hours for 125 km (40 km / h). Descent to the airport. Always enjoy water because with the heat it is sporty! Price : 2000 FCFA per person
– Taxi in Bissau: 500 FCFA city center / 1000 FCFA per person for the longest journeys
–> Total price: 4000 FCFA per person (6€)
→ By Plane to Bissau: international airport in Bissau, covid test needed, rather high price
So, here for the first tips, it is a choice of itinerary and we will present you a very Rout's version of this trip to Guinea-Bissau.

Indeed, everyone will live their own experiences) with good or bad surprises (such as eating shark or wild rat in a totally random way –> we tell you this in the articles that follow). Let yourself be carried away by the moment, follow your adventurous instinct while remaining cautious.
The rest of the adventure:
What we couldn't do and you might want to find out as well:
Enxude
Jata Island with Cachugo
Quihamel
Bolama
Rubane Island
Caravel Island
Orango Island –> everyone advises against it because it is very expensive, difficult to access and apparently difficult to see hippos
Queen's Island in front of Bissau
If you liked or have other tips to share feel free to comment on the article or join the facebook page or follow us on Instagram @jeanmichelvoyage