Bari is our first stop on our Roadtrip in Puglia.
Bari is very nice as a first step but we do not recommend you to stay there too long!
We arrive from Marseille and we will stay there Thursday and Friday which makes us 2 nights and 2 days teleworking.
We slept in an Airbnb near the train station which is a relatively nice area. Overall, from the train station to the city center, Bari is very clean and nice.
To work, we teleworked from this café
Bari is the capital of the Puglia region.
The town is very nice with a historic old town full of charm. 
In the evening, the inhabitants walk around the city and around the castle.
You can eat the famous Orecchiette cime di rapa (a type of dough in the shape of ears with a sauce with turnip or broccoli shoots) and the classic Pucce.
What to do and what to see in Bari?
As in many cities in Italy, churches, basilicas, cathedrals are worth visiting in Italy. 
Basilica of San Nicola in Bari
Basilica Cattedrale Metropolitana Primaziale San Sabino
Stroll through the streets of the historic center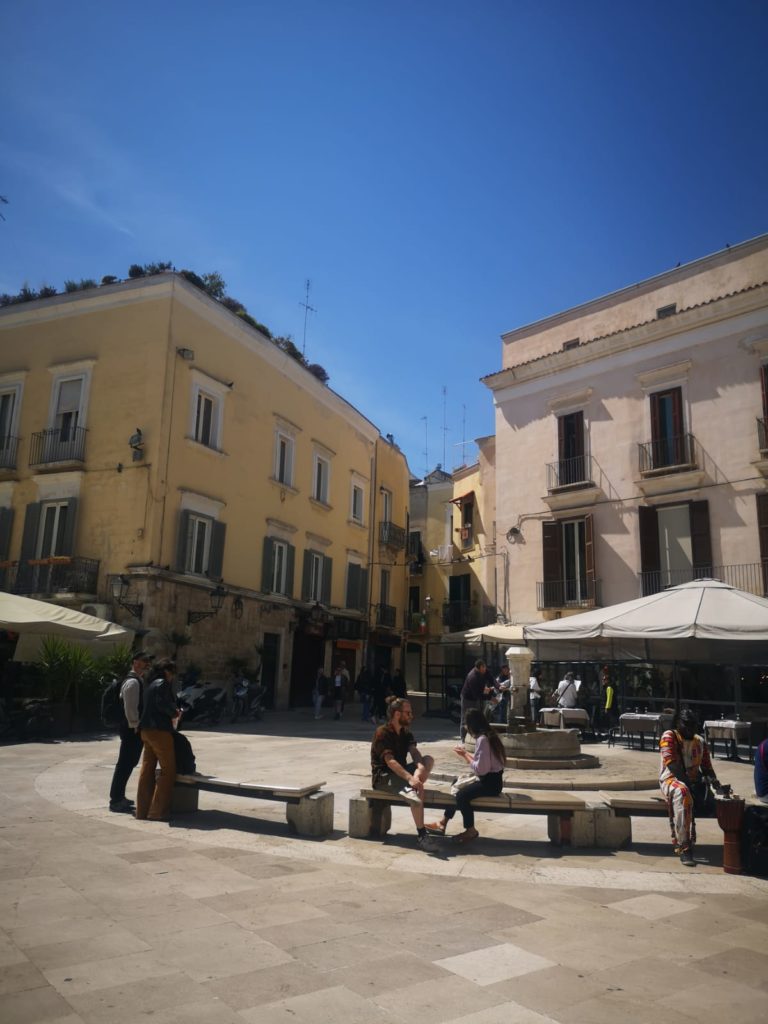 Strada delle Orecchiette: typical street to go buy the typical Orecchiette pasta
Castello svevo di Bari: The castle of Bari which is a meeting place where the locals land at the end of the day
Via Sparano da Bari: very nice pedestrian street from the train station to the old town
Piazza del Ferrarese
Eat local specialties
Arco dei maravigli: One of the many arches to discover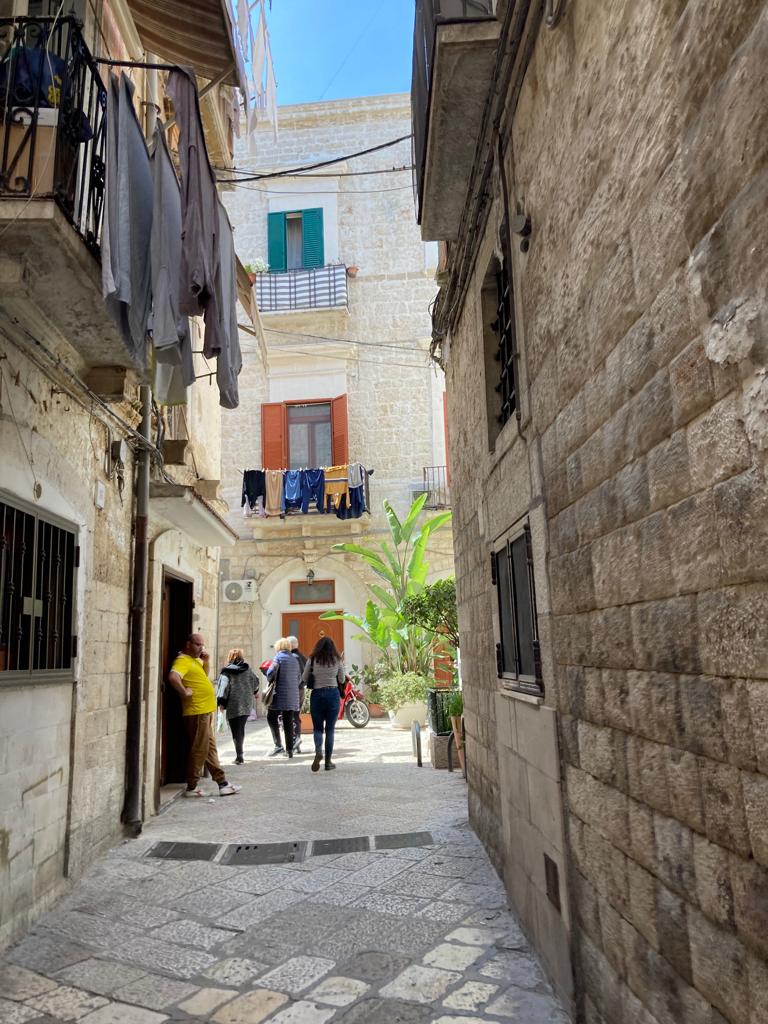 What to eat in Bari? 
As in all of Italy, we eat well. 
Pucce: sandwich with a typical bread and you can compose your sandwich with cold cuts and cheese it costs between 2 and 4 € depending on the type of cold cuts and cheese chosen
Focaccia: Pizza with tomato sauce and mozzarella closed on itself fried or not. We love it!
Orecchiette cime di rapa: Ear-shaped dough with a green sauce with turnip or broccoli shoot. It's special but you have to test (about 8€)
Vongole pasta: Seafood pasta mainly with clams cooked in oil and white wine. It's unbelievable!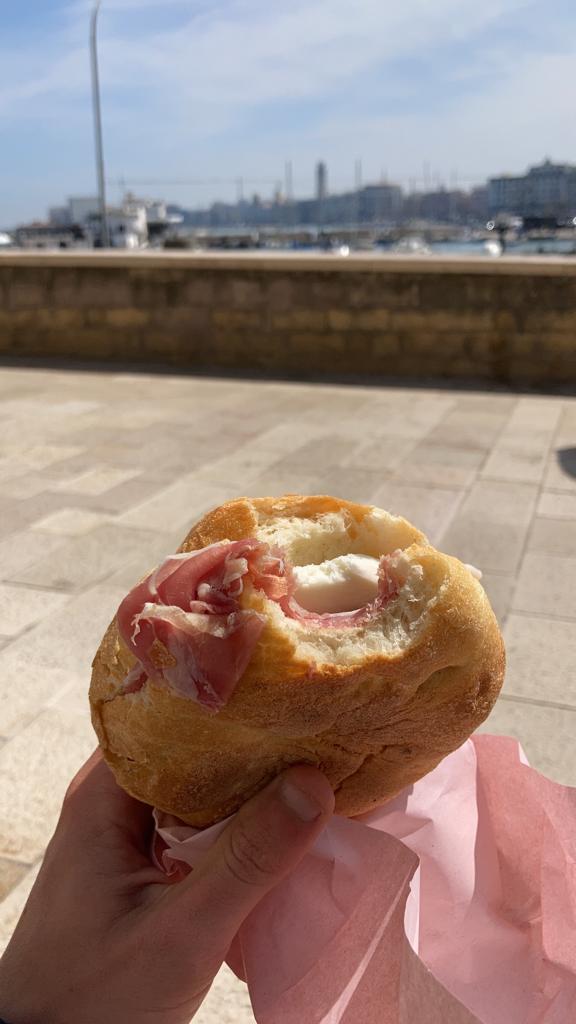 Where to eat in Bari? 
Next stop on our itinerary in Puglia:
After Bari we took the direction of Monopoli by train for a journey of 30-40 min for 3,40€
✅ Stage 1: Bari la ville dolce vita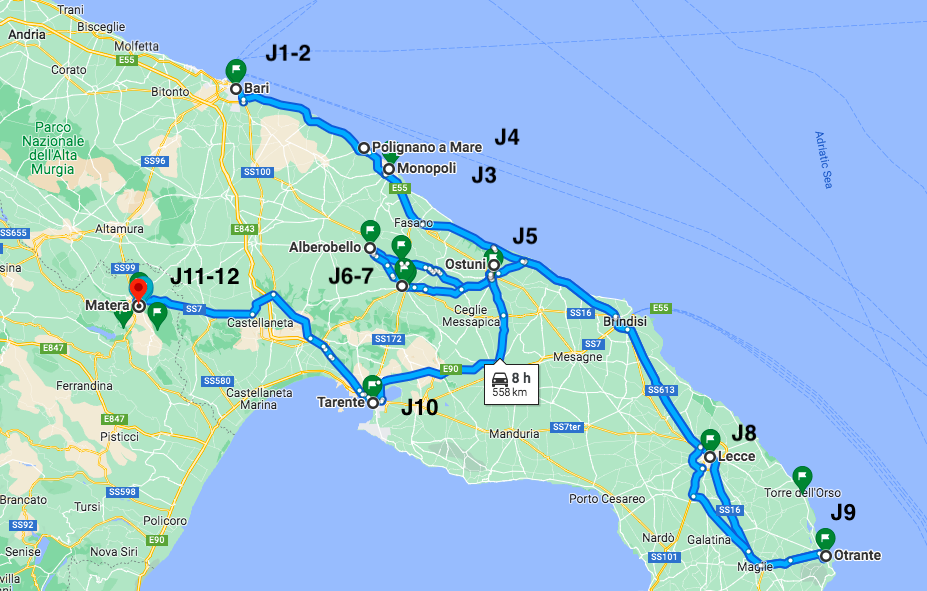 Feel free to comment or join us on Instagram @jeanmichelvoyage