This is already the third stage of our journey. 
And we were far from imagining the beauty of the city we are about to meet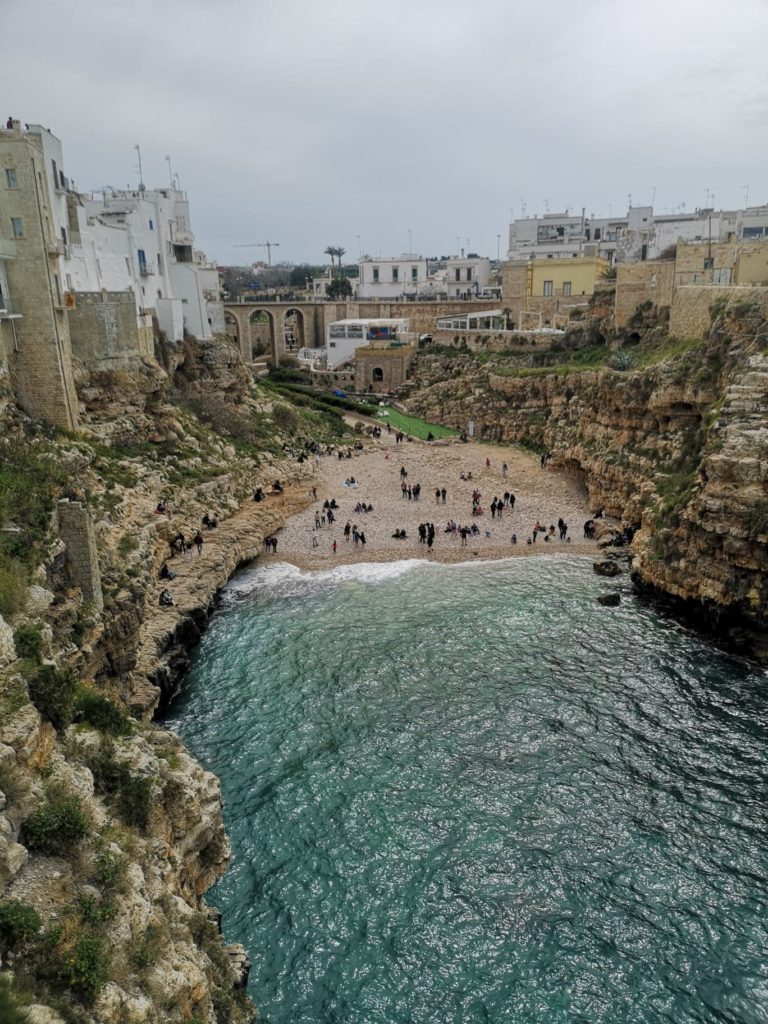 Polignano a Mare, what a surprising city!
With its tall buildings overlooking imposing cliffs and its beach like a cove that enters the city, Polignano a Mare is a city not to be missed.
From Monopoli, we went on foot from Monopoli about 2h30 walk with a good part not very nice by road and then a walk along the coast. 
We pass by the beautiful little beach with fishing boats of Port'Alga and by the cala Incine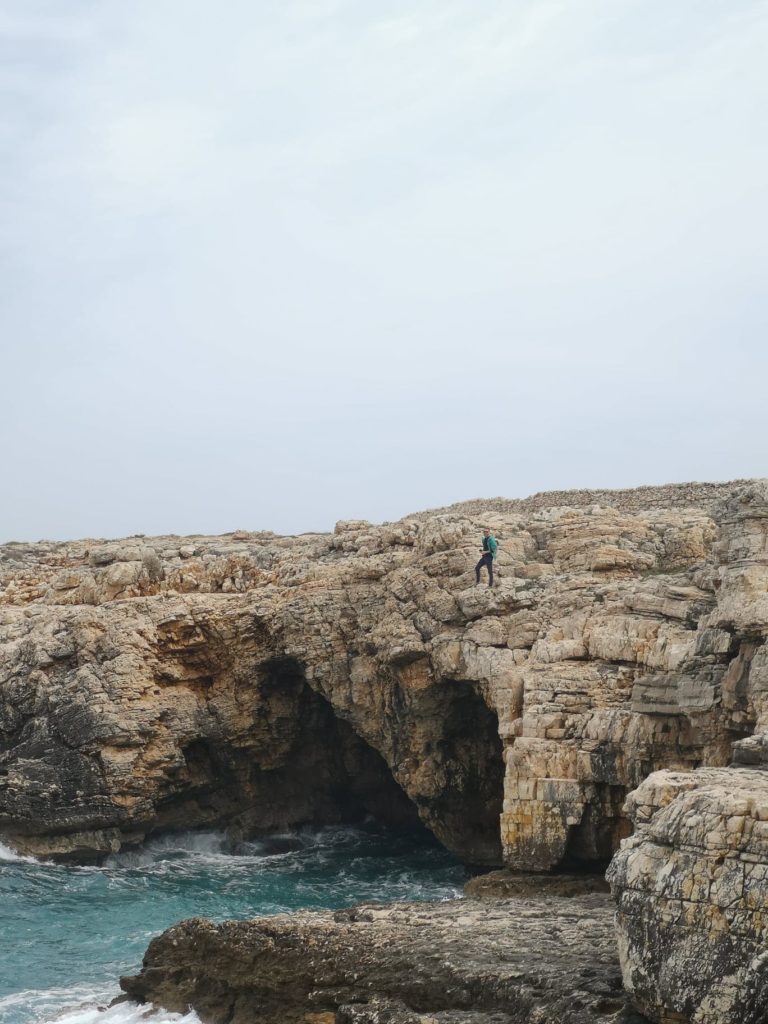 If you do the coastline of Monopoli on the south side and the one from Otranto no need to do this walk you will save time by doing it by train. 
We also made the return by train.
It is easiest by train or car.
The train is the best option in terms of cost, speed and practicality. 
For the anecdote, Polignano a Mare is the city of Domenico Modugno with the famous who wrote the song Volare (NEL BLU DIPINTO DI BLU) covered by the Gipsy king. 
What to do and what to see in Polignano a Mare?
We advise you to really walk through the streets of the historic center of Polignano.
Here are some must-sees:
The beach of Polignano a Mare
We go down right next to the bridge. Then you have to go under the arches of this magnificent bridge and you are there.
Be careful, the beach is very quickly full to bursting in high season you have to take your pain in patience or go very early.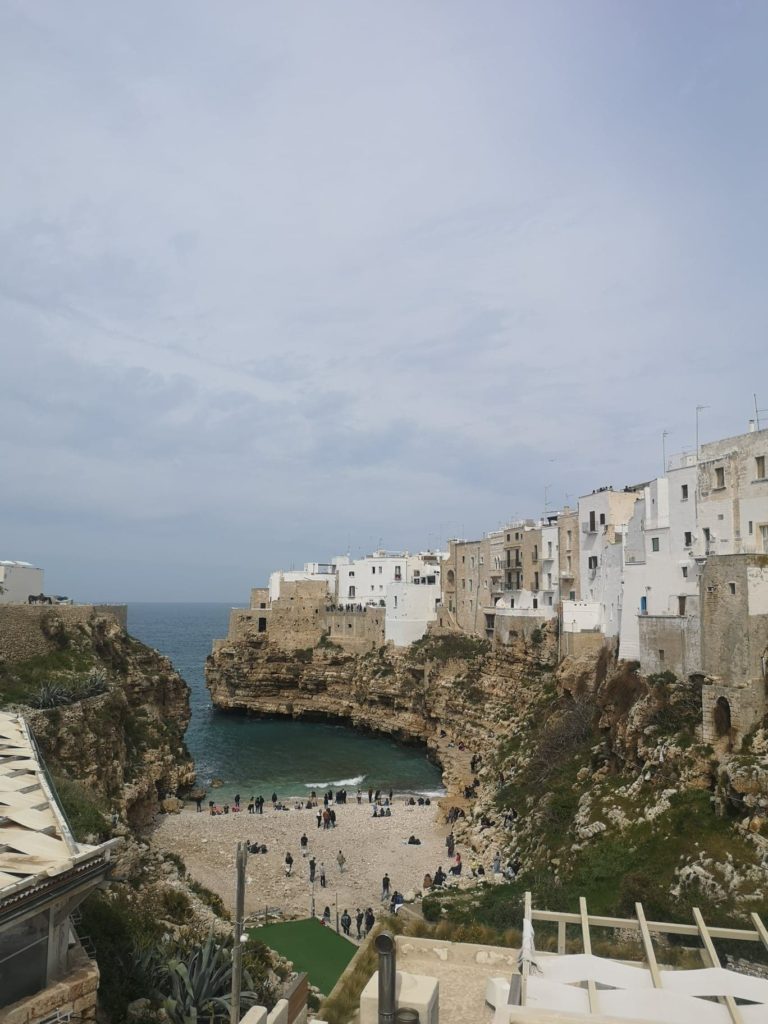 Magnificent view of the beach.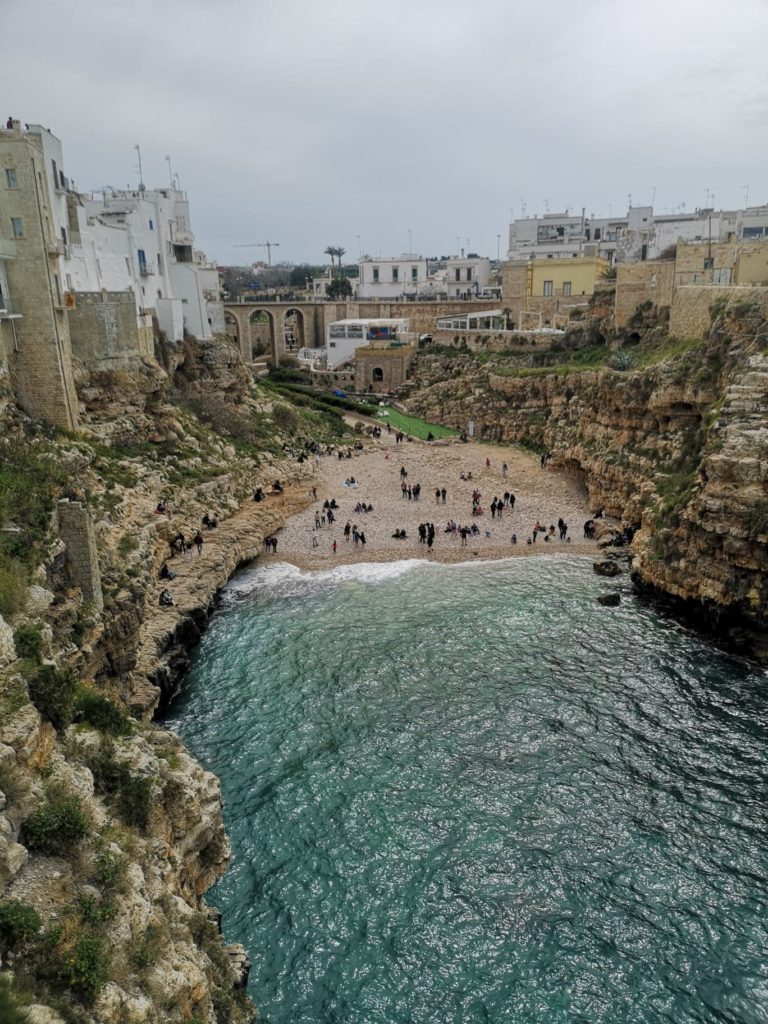 The view of the cliffs
There are many views of the cliffs you will find them on Google.
You will see the cliffs and caves making the waves.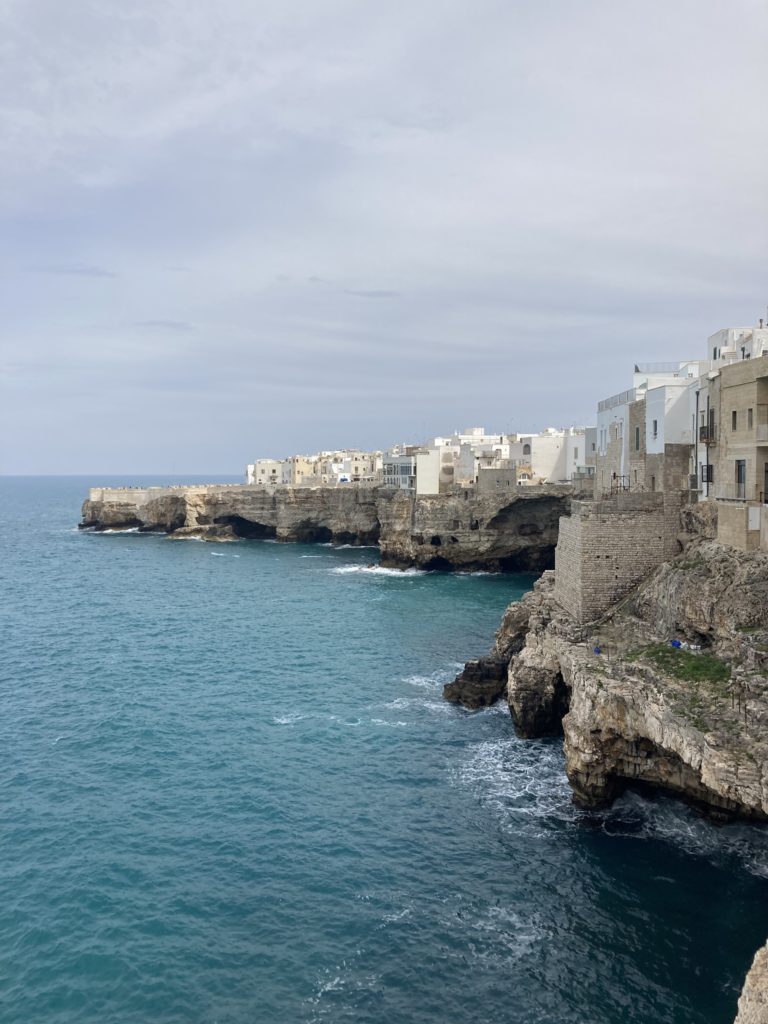 Visit the town of Polignano a Mare:
Travel the city from top to bottom you will love!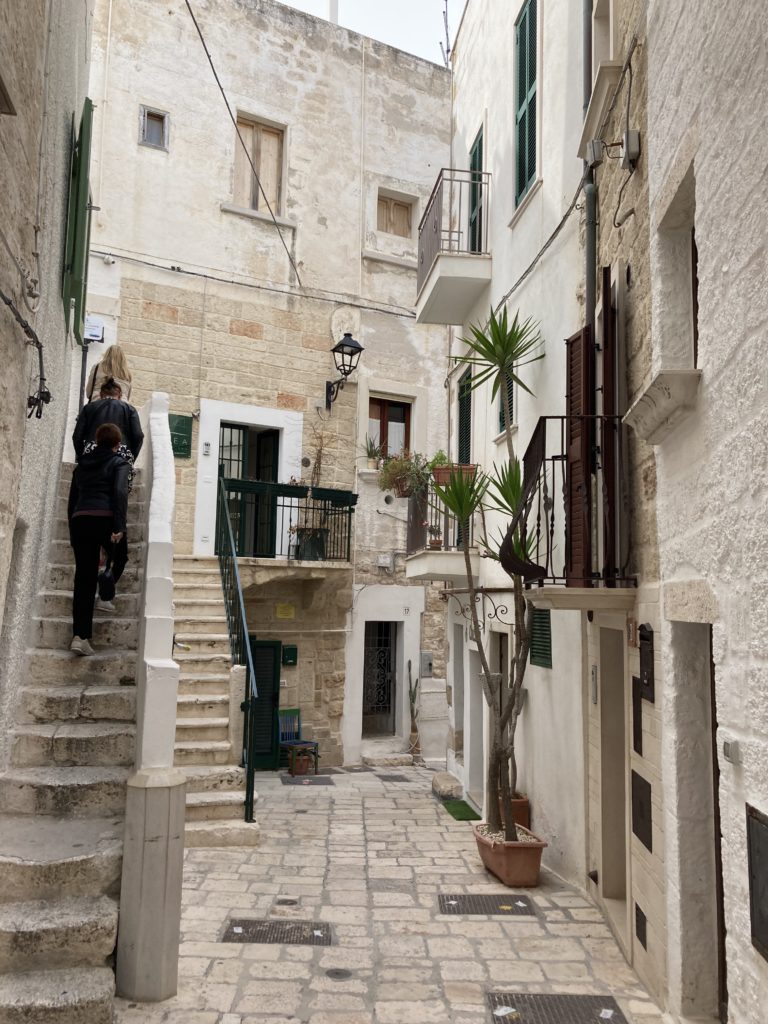 Grottone the natural pool of Polignano a Mare
A natural swimming pool with a view of Polignano a Mare, it is not refused. The place is super nice furnished with wood.
We didn't swim there because the water was cold but we thought it must be full in the summer. To test anyway!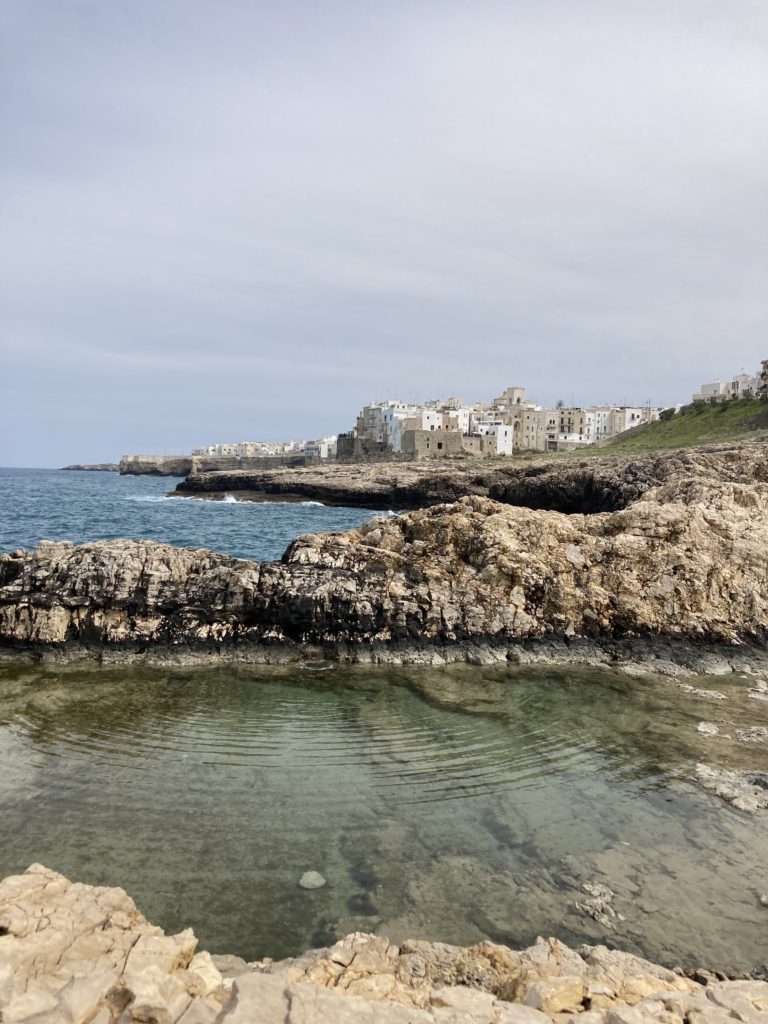 A super nice little port next to the center (10 minutes walk to the beach).
It's very nice, it's worth a visit.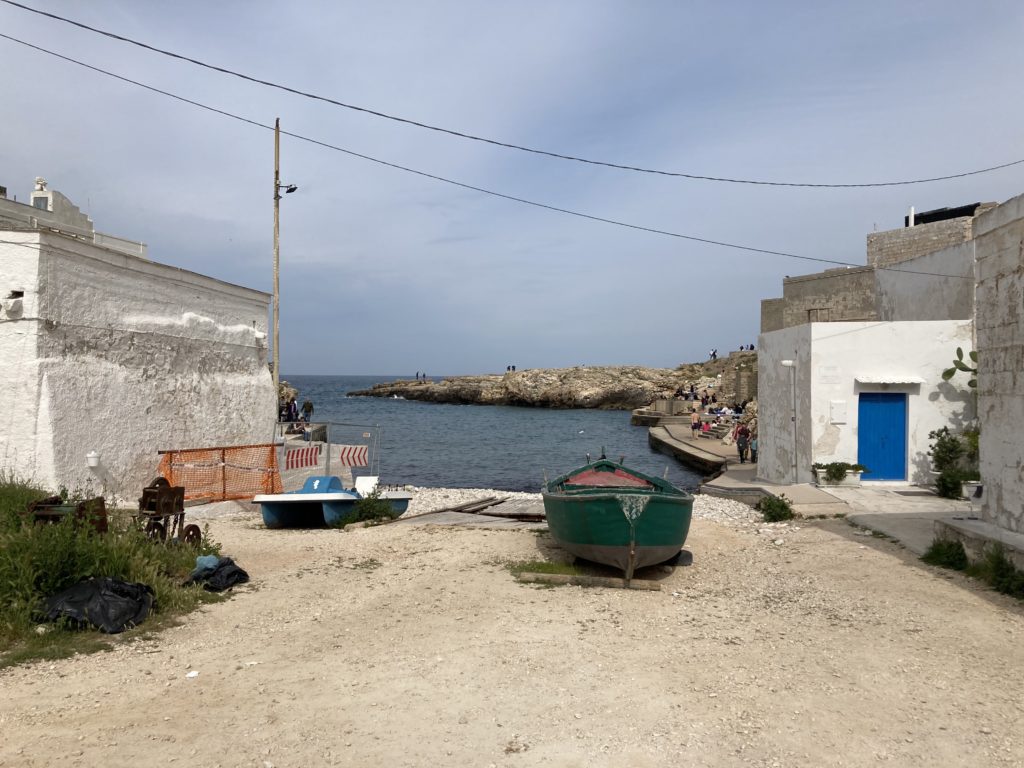 Red bull Cliff Diving – Polignano a Mare
This is probably one of the craziest things you can see in Polignano a Mare.
In general in September, you have to do it well in advance to attend this kind of events in a unique setting in the world!
What to eat in Polignano a Mare? 
As in all of Italy, we eat well. 
Pucce: sandwich with a typical bread and you can compose your sandwich with cold cuts and cheese it costs between 2 and 4 € depending on the type of cold cuts and cheese chosen
Focaccia: Pizza with tomato sauce and mozzarella closed on itself fried or not. We love it!
Orecchiette cime di rapa: Ear-shaped dough with a green sauce with turnip or broccoli shoot. It's special but you have to test (about 8€)
Vongole pasta: Seafood pasta mainly with clams cooked in oil and white wine. It's unbelievable!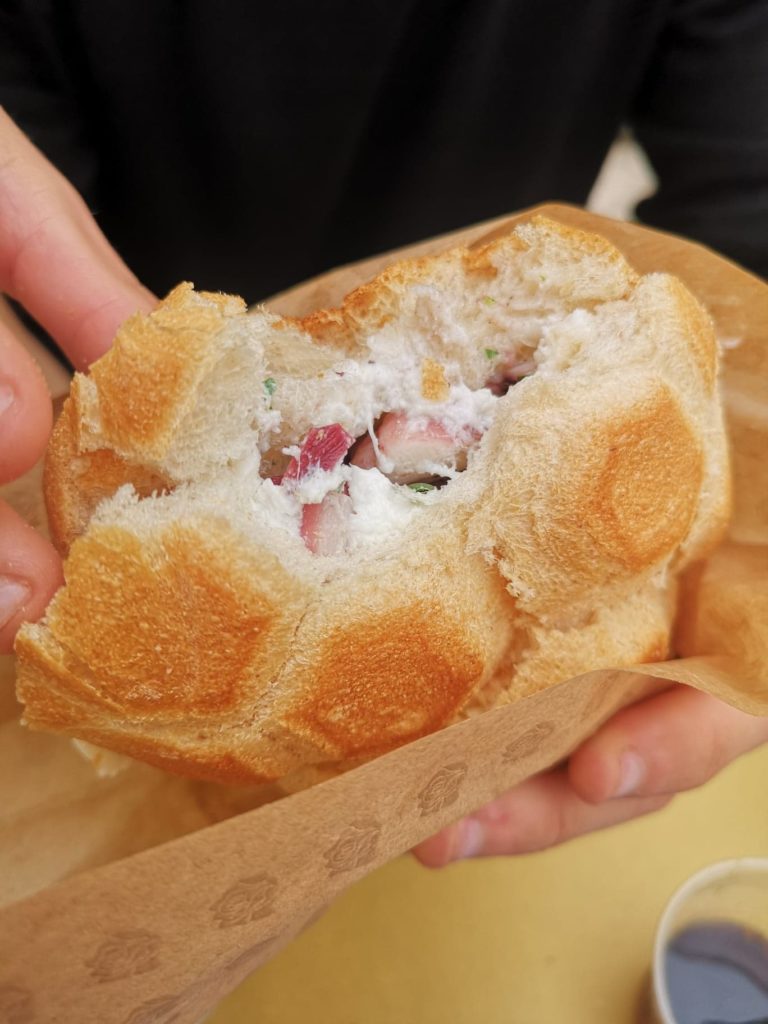 Where to eat in Polignano a Mare? 
Attention the restaurants are very busy try to book in advance to be sure to have a place
Pescaria: one of the best restaurants in Pucce puglia. Not to be missed
Next stop of our Roadtrip in Puglia:
From Polignano we returned to Monopoli and the next day we went by train to Ostuni the one way costs 2,70 € for a journey of 20 minutes
✅ Step 3: Polignano has mare the most impressive city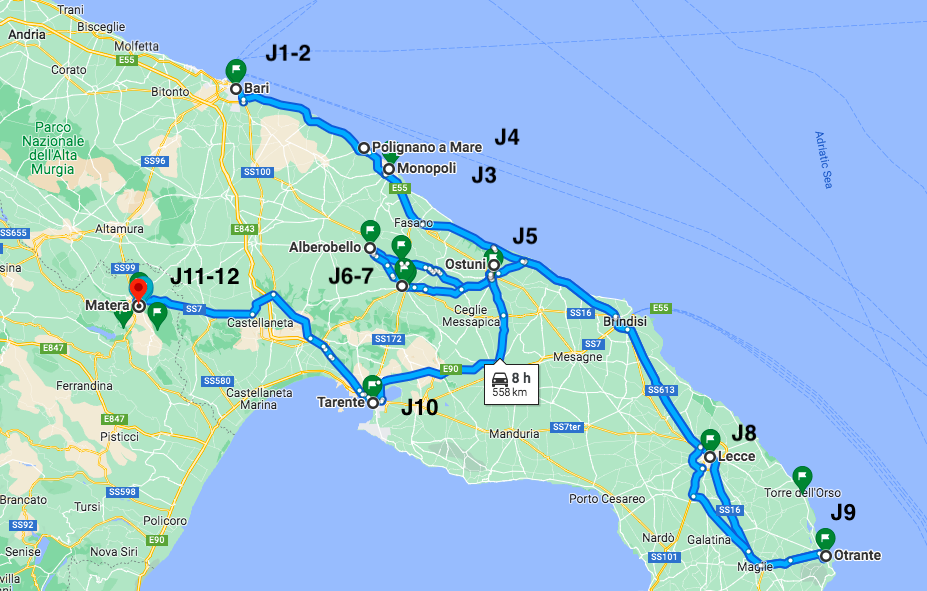 Feel free to comment or join us on Instagram @jeanmichelvoyage